By Brody Foster
When we were kids, most of us were asked what we wanted to be when we grew up? Many of our childhood dream jobs were firefighters, astronauts, and professional athletes like a football player. This week a couple hundred of those dreams will be fulfilled.
The NFL draft begins today and New Mexico fans are watching to see if one of our players makes it to the big leagues.
If Lobo Jerrick Reed II is chosen, he will be the first player from UNM drafted by an NFL team since 2018, when kicker Jason Sanders was chosen in the third round by the Miami Dolphins, where he still plays.
Reed II played four years as a safety for the Lobos, totaling 163 tackles, seven interceptions, 21 passes defended and two forced fumbles. He's home in Mississippi this week, preparing to celebrate with family if he does get the nod.
"I'd say that's every football player's dream," UNM defensive tackle Bryce Santana said before a workout at the Tow Diehm Athletic Facility. "Everyone wants to make it to the big leagues and be on TV."
The draft has ballooned into a must-watch TV sports event. Ten million people watched the first round of the 2022 draft and more than 300,000 people attended the event live in Las Vegas.
The draft lasts for seven rounds over three days in the spring, between each NFL season and usually involves about 250 candidates. Mostly they're American college football players but occasionally a European or Australian rugby player gets picked. Unlike the NBA, where players can get plucked straight from high school, the NFL requires that potential draftees spend at least three years on a college team.
The order of the draft attempts to inject an element of balance into the league, by allowing the team with the worst record to have the first pick of each round and the team that won the Super Bowl to pick last.
Alabama Quarterback Bryce Young is the odds-on favorite for this year's first overall pick, and the school has a huge history at the draft. The University of Alabama, which has won 23 college football national championships, has supplied 109 players just since the 2010 draft.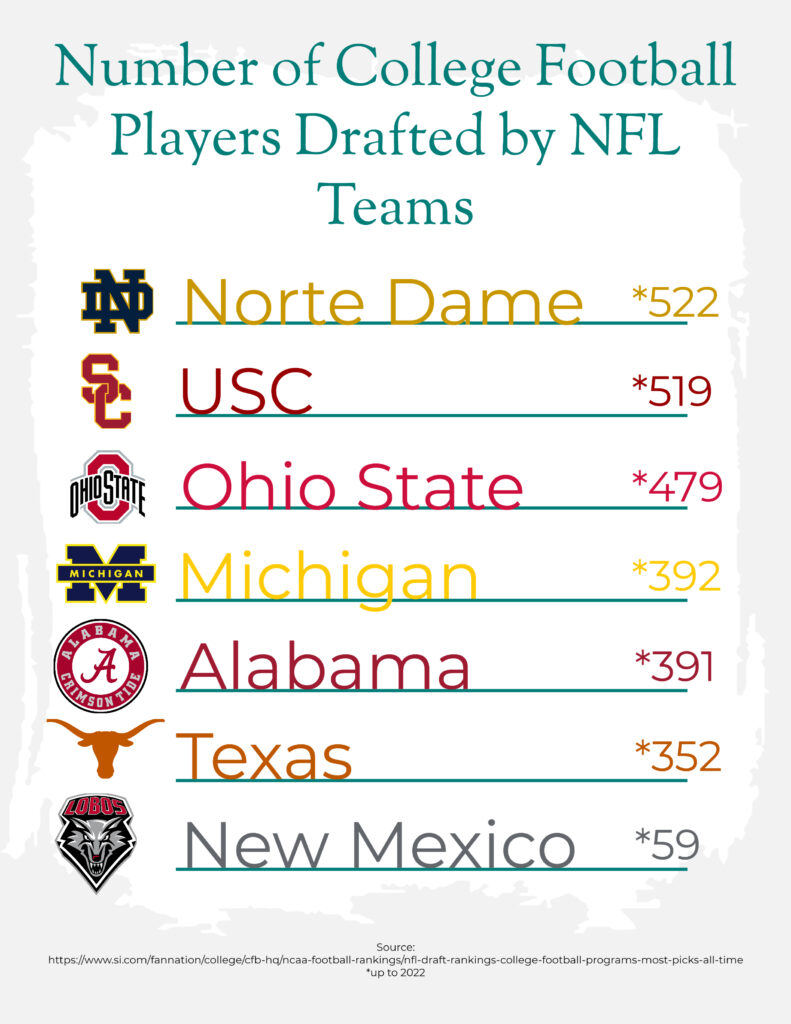 Graphic by Brody Foster
UNM has not been so lucky, not having more than four wins in a season since 2016. But hope springs eternal.
More than 250 college football players pray to hear their name called, and fans hope their teams score the best new talent. 
Prospects train for months to be at their absolute best physically and mentally as team scouts evaluate them.
All of the Division I schools host their own "pro day" when NFL scouts visit and Reed and the rest of the Lobos showed off in March.
The event allowed Reed to show off his strength, skills and "explosiveness," said UNM safety's coach David Howes.
"If you're a player and you can produce, they're gonna find you …and they found Jerrick," said Howes.
After his pro day the Kansas City Chiefs and Seattle Seahawks showed interest in Reed, and both teams made rare official in-person visits.
When a UNM player is drafted it does more than just elevate one player, it affects the whole program and it's future.
For one thing, It helps in recruiting, said UNM Head Coach Danny Gonzales.
"For our guys to see [Reed] taking NFL site visits has been really cool, it just puts a carrot out there to show that it's possible," Gonzales said.
In the 87 years since the draft began, only 59 players have been selected from UNM, the best-known being Brian Urlacher, who was chosen ninth overall in the first round. After his 12-year NFL career, Urlacher was inducted into the Pro Football Hall of Fame.
The NFL began the draft in 1936 with around 90 prospects. The first player ever drafted, Jay Berwanger, declined the offer and never played a single down as a pro because he didn't see football as a good career choice, as in the league's first 16 years of existence, 43 teams ceased operations.
Today draftees' contracts start at $705,000 for their first year and can earn as much as $41 million in their first contract with a team.
The hard work for all the draft prospects like Reed, doesn't stop after the draft and will continue into the summer during mini and training camps, as players fight to earn one of 53 roster spots on each team.
NFL teams will start holding rookie mini camps from May 5-8 or May 12-15, while preseason games start August 3, and the 2023 NFL season officially gets underway with the first regular season game on September 7.