By Mary Martinez / NM News Port
The UNM Honors College has started a fitness initiative for students that borrows from a holistic Indigenous approach to health. The program is open to the UNM community as a whole.
The initiative focuses on four types of wellness: spiritual, mental, physical and social.
Kyle Harvey is the senior academic advisor who integrated this idea into the Honors College.
"What I would really hope is that students feel compelled to engage in these different activities," Harvey said, "it can really get them to think about how exercise can impact their academics." And, how the social activities help strengthen them, also.
One of these activities is a one-hour movement program on Mondays, Wednesdays, and Thursdays at noon, open to all UNM students, faculty and staff.
"It's really helping them get a little bit more connected to the university community and identifying their identities, strengthening their identity as a Lobo," Harvey said.
Schedules change when students come back to school, Harvey said, so this initiative can help students practice physical wellness at a time when they are more focused on their academics.
"Being able to run, for example, you might have something really heavy on your mind," Harvey said. "You're really able to think through those thoughts while you're physically moving."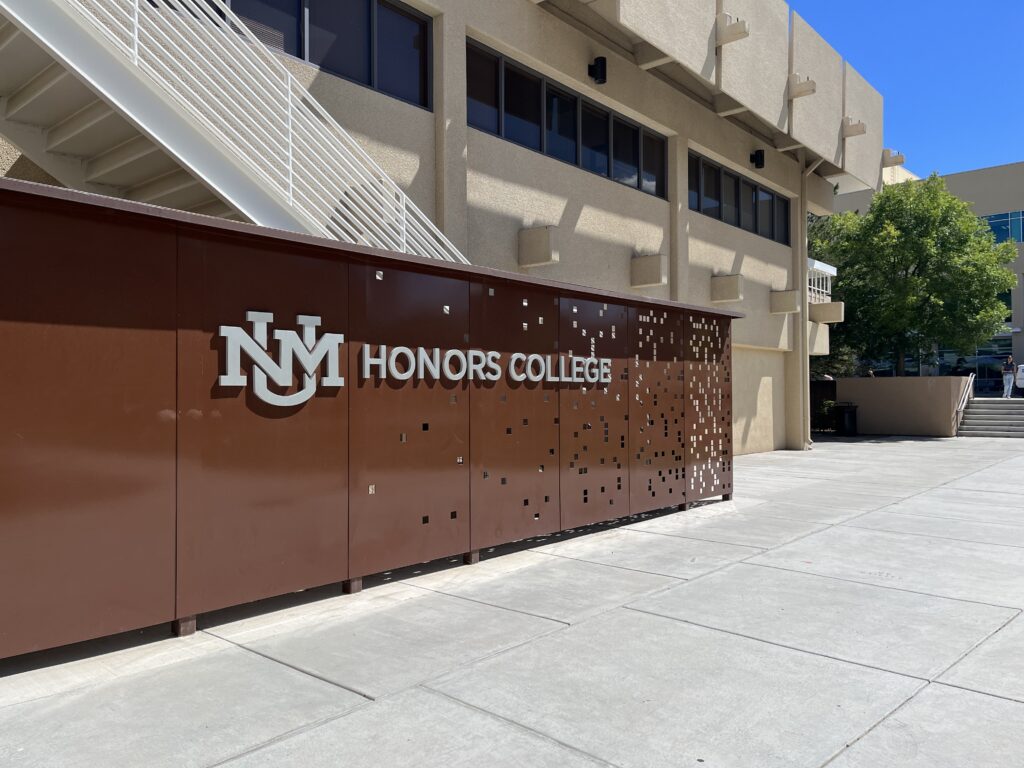 The inspiration for this wellness initiative comes from an interdisciplinary, holistic wellness model called The Corn Pollen Model, developed by Dr. Shawn Secatero, an associate professor at the UNM College of Education and Human Sciences.
Secatero is part of the Canoncito Band of Navajos and has been developing this model since 1997.
"I think that there were very few Native American based conceptual models that were being used," Secatero said, "They were in development, but now that many more of us are pursuing higher ed, our epistemology is very valuable and needs to be shared with the world."
This model has four quadrants of wellness, the same types of wellness that Harvey focuses on in the Honors College program. Part of the physical quadrant is cyclical well-being, which involves time and change.
Secatero said students coming back to school relate to this type of wellness.
"Being a student is all so hard because you guys have school, you have your family, you have obligations, and sometimes things happen that offset the time," Secatero said, "and then, it's your responsibility to come back into balance."
Secatero specializes in educational leadership and has a program called POLLEN: Promoting Our Leadership, Learning and Empowering Nations. This program teaches people how to be school principals, and about 10 new principals graduate from it each year.
"I love using this and integrating this into my classes," Secatero said. Students that are not indigenous benefit from using a holistic framework with which they would have otherwise been unfamiliar.
By introducing this approach into higher education, educators like Harvey and Secatero can help students find connections at times when they feel isolated.
"I feel like we understand wellness in terms of taking care of our mental health, taking care of our physical selves, making sure we're eating right," Harvey said. "But there's also pitfalls that students fall into with negative self-talk."
He said that having resources to rely on can develop student connections and overall wellness.
Teaching wellness can be challenging, Secatero said, but also rewarding.
"I've learned to balance all of these through my own teachings, my own epistemology, and then teaching others," Secatero said, "having them learn something meaningful that they can take with them in their lives and their professions and their communities."