By Miyawni Curtis/ NM News Port
UNM business major Katherine Smith helped Locker #505 raise about $10,000 more than ever to support its' mission of providing school clothes for Albuquerque children in need, according to Locker #505 executive director Kim Kerschen.
Smith, a model and six-time Miss Teen USA pageant contestant began producing the show 2 years ago alongside her mother, Kristine Smith. She is a two-time state title holder and a national top five finalist in the pageant world. She has been a volunteer of Locker #505 for 5 years and advocating for volunteer work since she was 7 years old. 
Locker #505's 9th annual fashion show was filled with different styles, silent auctions, gift bags, a cash bar, and a plethora of free desserts. Admissions cost a whopping $50. The money spent on silent auctions, gift bags, admission, and drinks went towards Locker #505. 
It costs about $150 per student, according to Kerschen. Based off calculations the money raised can support about 186 students.
More than a quarter of New Mexico families live in poverty and inflation has made it more difficult to make ends meet. Only about a third of parents nationwide said they could easily afford back-to-school shopping last fall.
Locker #505 has served more than 12,000 students since its founding in 2014. Students who are referred to from their school are invited to visit the "store" near Menaul and San Pedro, where students are assisted by a personal "stylist" and given a collection of basics, including socks, underwear, pants, brand new pair of shoes, backpack and toiletry items. Younger children also get a book and toy. 
"Some of them come in and their shoes are taped together," said Margie Pintzow, the president of Locker #505.  
"When you're a kid and you don't fit in, all you care about is what people think about you, so how do you focus on the chalkboard?" Pintzow asked. Locker#505's mission is to help every student leave the store feeling good.
Models walked in high end pieces created by a few designers, according to Smith. Smith said she wanted to bring a new style to New Mexico.
"We have designers that have walked in London and have had their collections in London, Milan, Paris Fashion Week. I bring the best of the best to this show," Katherine said.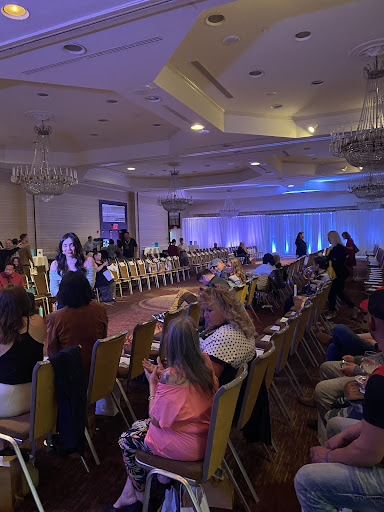 Smith is also the founder of Operation K-9 Comfort.
To make an appearance at the fashion show was Miss Teen New Mexico, Caroline Babcock. Babcock said she was there to support Locker #505 and her good friend Smith. 
"We really need to support the students that need the clothing and I think that this is a great event to raise awareness for it," Babcock said.
The director of Locker #505, Kim Kerschen was not able to make it to the show but appeared in a video presentation. Kerschen said that creating Locker #505 didn't take as long as she thought it would and rather than taking 6 to 8 weeks, it took 6 to 8 days.

The organization helps kids pick outfits that will help them feel good and focus on their schoolwork, rather than worry about what they are wearing, according to the Locker #505 website.