By Bodie "Bo" Russell / NM News Port
The University of New Mexico (UNM) decided it would hold a graduation ceremony for its 2021 class this May at University Stadium, allowing only graduating students and faculty to attend.
"This is a discussion the leadership team at UNM has been having since the first day of the Spring 2021 semester because we know how important it is to celebrate the experience of crossing the stage to transition from student to alum," UNM President Garnett Stokes said in an email announcement on March 31st.
This decision conforms to UNM's Protect the Pack guidelines and the New Mexico Department of Health's Red to Green Framework. Bernalillo County is currently at the Yellow Level. 
"In order to ensure manageable, safely-spaced seating for all graduates—there will be no guests permitted at the ceremony," Stokes said.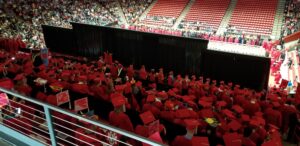 In years past, the ceremony would be held indoors at University Arena, commonly referred to as The Pit. 
Last year, the concern for the spread of COVID-19 forced the Spring and Fall ceremonies to go online. Stokes said that UNM is committed to giving those 2020 graduates an in-person ceremony of their own sometime in the future.
The Office of the Secretary sent out an invitation to UNM faculty, which allowed faculty members to decide whether to attend.
Mohammad Yousuf, an Assistant Professor in the Department of Communication and Journalism, said he registered to attend right away because he knows UNM will work to keep everyone safe.
"Being in academia for so long as I have, as a student and now as a faculty member, this is almost like a ritual for faculty members," Yousuf said.
Describing it as being like a second Christmas for the entire campus, Yousuf said he is prepared if the event changes last minute, even if it is days before the event.
Meanwhile, many UNM departments, schools and colleges are holding separate ceremonies and convocations, most of which are going to be virtual. 
AJ Frey, a senior majoring in archeological anthropology, said she will not be attending UNM's commencement ceremony because the Department of Anthropology is putting on its own online celebration that friends and family are invited to attend. 
"We are a tight knight department and that is the ceremony I am really looking forward to," Frey said. 
Frey said department graduates will be mailed gift bags as well. The Department of Anthropology holds a convocation every year, a tradition that started in 1986. 
Jesus Mata, a senior and journalism major, said that he is waiting to make a decision on whether to attend the all-campus commencement ceremony. 
"I would love to be a part of it if they figure out how to keep everyone safe," Mata said. "I know graduation is supposed to be a special moment for everyone."
Mata said that if the New Mexico Department of Health approves UNM's plans, he would go to an in-person ceremony.
"Everyone is starting to get vaccinated, so a lot can change within the next couple of months," Mata said. "But right now, if the New Mexico Department of Health is okay with it then I have no problem, I'm going."
Universities across the country are making their own unique decisions in regard to graduation ceremonies. In states like Texas, where public health orders have been relaxed, Texas A&M will allow graduates to bring guests. In other states, such as Oregon, Western Oregon University is holding a drive-thru celebration. 
UNM's ceremony is scheduled to start at University Stadium at 9 a.m. Saturday, May 15. There will be a livestream feed for parents, families and others who are barred from attending. 
Bodie "Bo" Russell is a reporter for the New Mexico News Port. Follow @b0dier on Twitter.