Before he was accused of orchestrating the shootings at elected officials' homes, he was able to court an influential New Mexico conservative.
By Joshua Bowling/ Searchlight NM
Before he was accused on Monday of orchestrating a series of drive-by shootings at elected officials' homes, Solomon Pena mounted a modest campaign against a longtime incumbent in a solid blue Albuquerque district. He failed to make a strong showing at the ballot box, but that didn't stop him from successfully courting one of New Mexico's most influential conservative voices.
On Sept. 28, Jalapeño Corporation — the company led by 80-year-old Harvey E. Yates Jr., a prominent New Mexico oilman and former chair of the state's Republican Party — donated $5,000 to Pena's fledgling campaign.
Yates said he met Pena about two years ago at a local Republican Party meeting. At the time, Pena struck him as a "respectful, polite young man," Yates told Searchlight New Mexico.
When Pena filed to run last year for the District 14 seat in the state House of Representatives, Yates said he was willing to give him a chance, even after Pena's criminal record came to light.
"I, at that time, had become aware that he had a criminal history but that he was trying to reform himself," said Yates, when he was reached by phone on Wednesday. "I believe in redemption and helping a guy if he's really trying to do that. So I donated to him, or the company donated to him. It also donated the same amount to probably 20 other candidates."
Campaign finance records show that Pena received financial support from numerous New Mexico Republicans as well as from one of the men now accused of helping him carry out the shootings.
Yates said he was "extremely saddened" when he heard that Albuquerque police had accused Pena of masterminding a string of drive-by shootings in December and January.
After soundly losing the November election, police say he hired four people to shoot up local politicians' homes. One state senator told police that a bullet whisked through a bedroom in her southwest Albuquerque home, flying so low that it blew dust from the wall onto her sleeping 10-year-old daughter's face.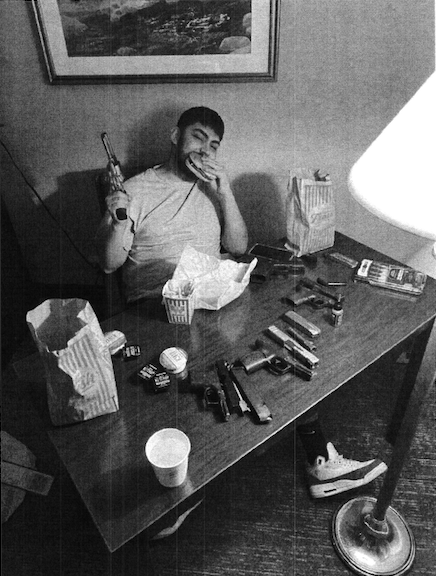 Pena's biggest funders
Pena's interest in politics was seemingly kindled by the Trump presidency, according to his own social media posts, in which he referred to himself as "the MAGA king." But betting on the 39-year-old candidate was from the start a long shot. His opponent, Miguel Garcia, had already filled the seat for 26 years.
The Democrat incumbent also asked a judge to bar Pena from running, citing his 2008 conviction in a string of burglaries and the fact that he spent several years in prison. The judge denied the request, and Pena managed to raise nearly $24,000, according to the New Mexico Secretary of State's Office, compared to Garcia's nearly $41,000.
Pena's filings were fairly sparse, but they shine a light on how his failed campaign — he only garnered 26 percent of the vote — made it as far as it did.
Once he won the uncontested primary with 384 votes, support started trickling in: $104 from a Sandoval County official, $150 from a former state lawmaker and $5,000 from Yates' company.
Among his largest contributors were José Louise Trujillo, who donated $5,155 — $155 more than Yates — and Melanie Griego, who gave $4,000. Trujillo now stands accused of being one of the four drive-by shooters. Griego is Trujillo's mother, several family members confirmed to Searchlight.
Trujillo, 21, and his father, Demetrio Trujillo, are both accused — along with two unnamed brothers — of conspiring with Pena to carry out the shootings.
The investigation
The first shooting occurred more than a month ago, when Bernalillo County Commission Vice Chair Adriann Barboa called police to report gunshots at her house. The most recent, on the night of Jan. 3, occurred at the home of State Sen. Linda Lopez (D). One bullet was fired so low, she told police, that "sheetrock dust was blown onto" the face of her sleeping 10-year-old daughter.
Less than an hour later, a Bernalillo County Sheriff's Office deputy initiated a traffic stop just five miles from Lopez's house. Deputy J Skroch, as he is identified in court documents, had pulled over José Trujillo, who was driving a Nissan Maxima registered to Pena. Inside the car, police reported finding more than 800 fentanyl pills, a wad of cash, an assault rifle and a Glock handgun equipped with a drum magazine. Drum magazines significantly expand the amount of ammunition a handgun holds. Trujillo now faces federal charges stemming from that arrest.
As police worked to connect the incidents, they obtained a search warrant for Demetrio Trujillo's cell phone. According to police, it was filled with text messages from Pena listing the exact addresses for each of the four elected officials whose homes were attacked. They said it also contained photos: one of a Glock handgun with a drum magazine, one of José Trujillo pointing a gun into the air and biting into a Whataburger, and another of Pena and Trujillo posing together for a selfie.
In court documents, police say a confidential witness with "personal and intimate knowledge of the crimes" informed them that Pena had offered Demetrio and two unnamed brothers a total of $500 for the first shooting. The money was divided among the three, the witness told police.
The witness also told police that Pena participated in the shooting at Lopez's home, but his gun jammed.
Pena was booked into the Metropolitan Detention Center outside Albuquerque early Tuesday morning and faces 14 felony charges and one misdemeanor charge, including shooting at a dwelling or occupied building and shooting at or from a motor vehicle.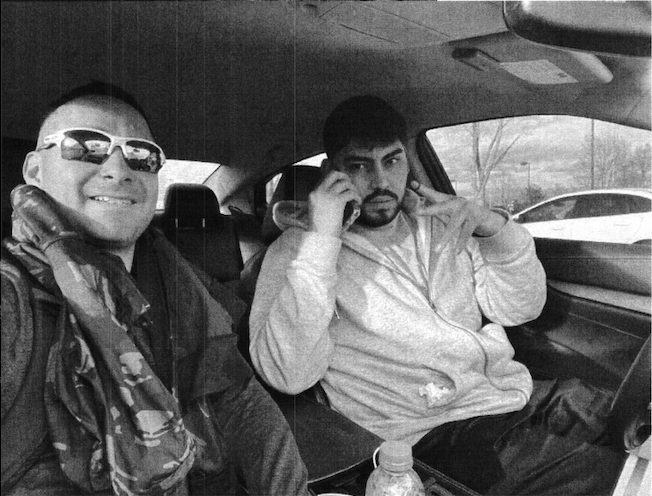 TIMELINE OF THE FOUR SHOOTINGS
Dec. 4, 2022: Bernalillo County Commission Vice Chair Adriann Barboa calls the police to report gunshots fired at her house. Police test bullet casings found inside a nearby vehicle and match them with the ones found at Barboa's home.
Dec. 8, 2022: New Mexico Speaker of the House Javier Martinez's home is struck by gunfire. His wife was inside the home when she heard the shots, police say.
Dec. 11, 2022: Police detect 12 shots fired at the home of then-Bernalillo County Commissioner Debbie O'Malley, who called police five days later to report the gunshots. Pena had come to her house a day or two before the gunshots, she told police, and had voiced his displeasure that he lost his election.
Jan. 3, 2023: Shots are fired at the home of state Sen. Linda Lopez. "Sheetrock dust was blown onto" her 10-year-old daughter's face from the gunshots, police said.
Searchlight New Mexico is a nonprofit, nonpartisan media organization that seeks to empower New Mexicans to demand honest and effective public policy.