"Home of Happy Feet" enters its 48th year on local public radio
By Bodie "Bo" Russell / NM News Port
"Well good evening everybody, this is the Home of Happy Feet," is the greeting you might hear from Karl Stalnaker as he introduces his radio show on Tuesday nights.
The duo of Stalnaker and fellow deejay Harry Norton are known to KUNM audiences as the current hosts of the Home of Happy Feet (HHF), a music show that started in 1973 and features a multitude of genres such as folk, bluegrass, cajun and rockabilly.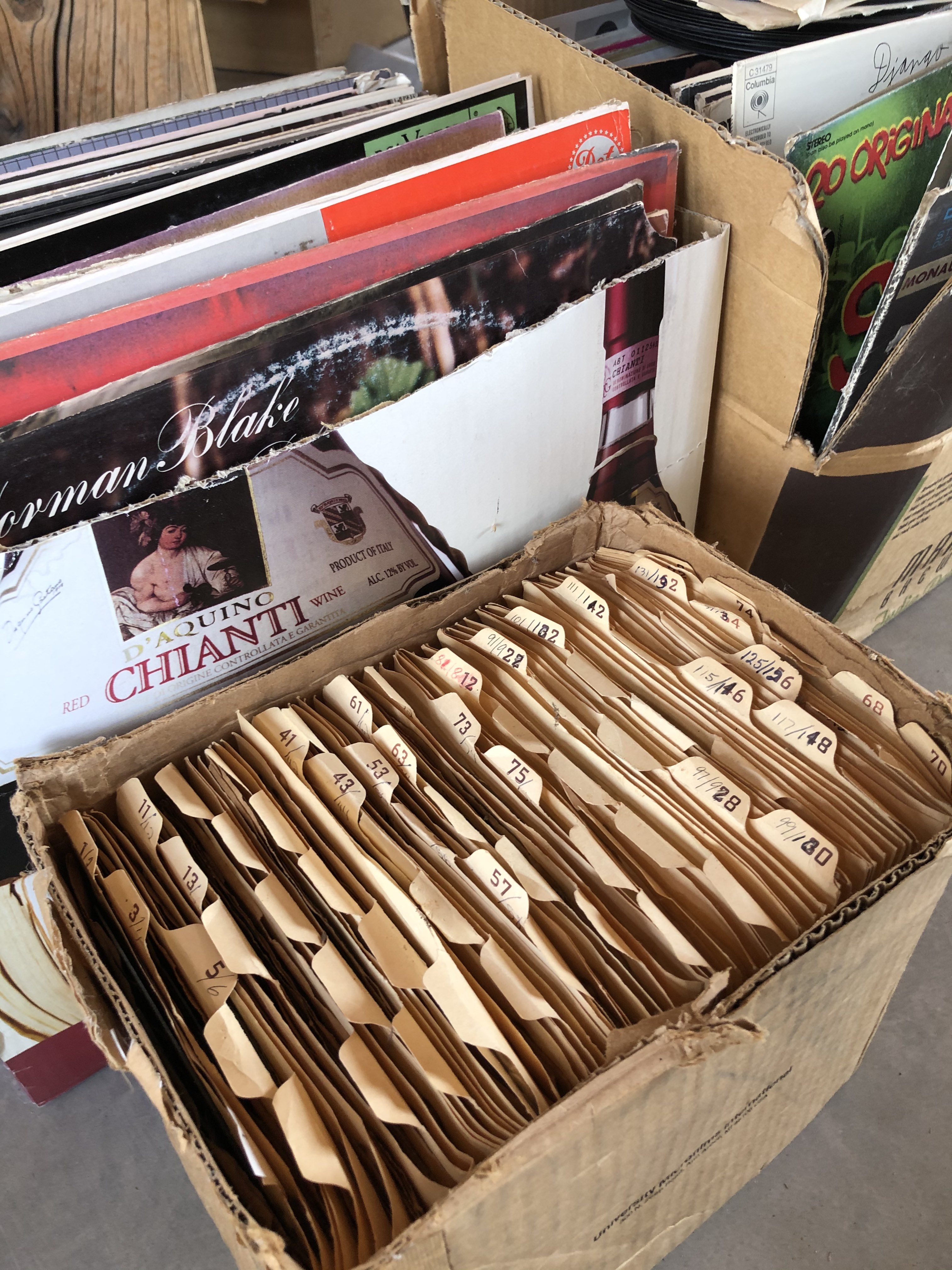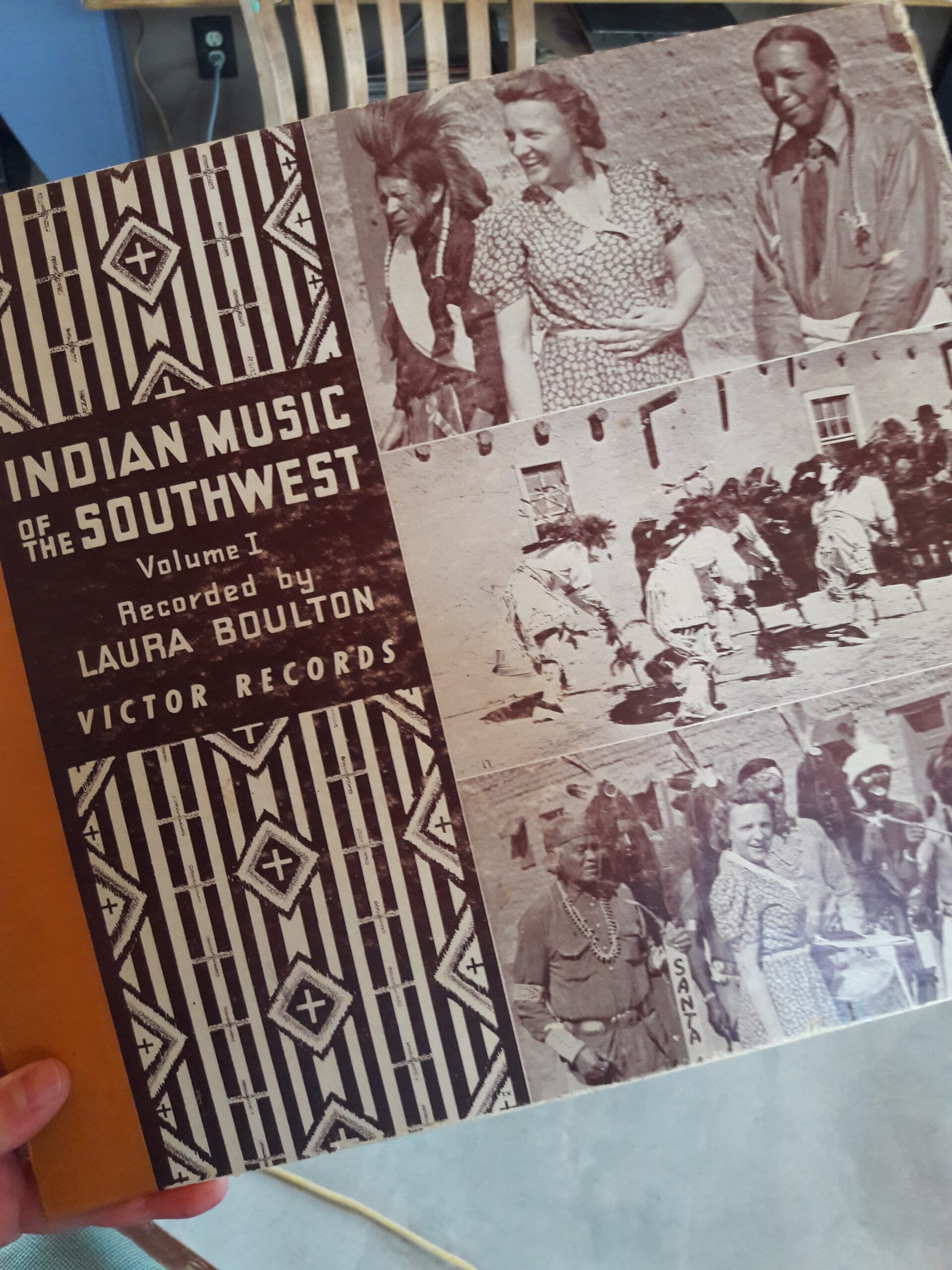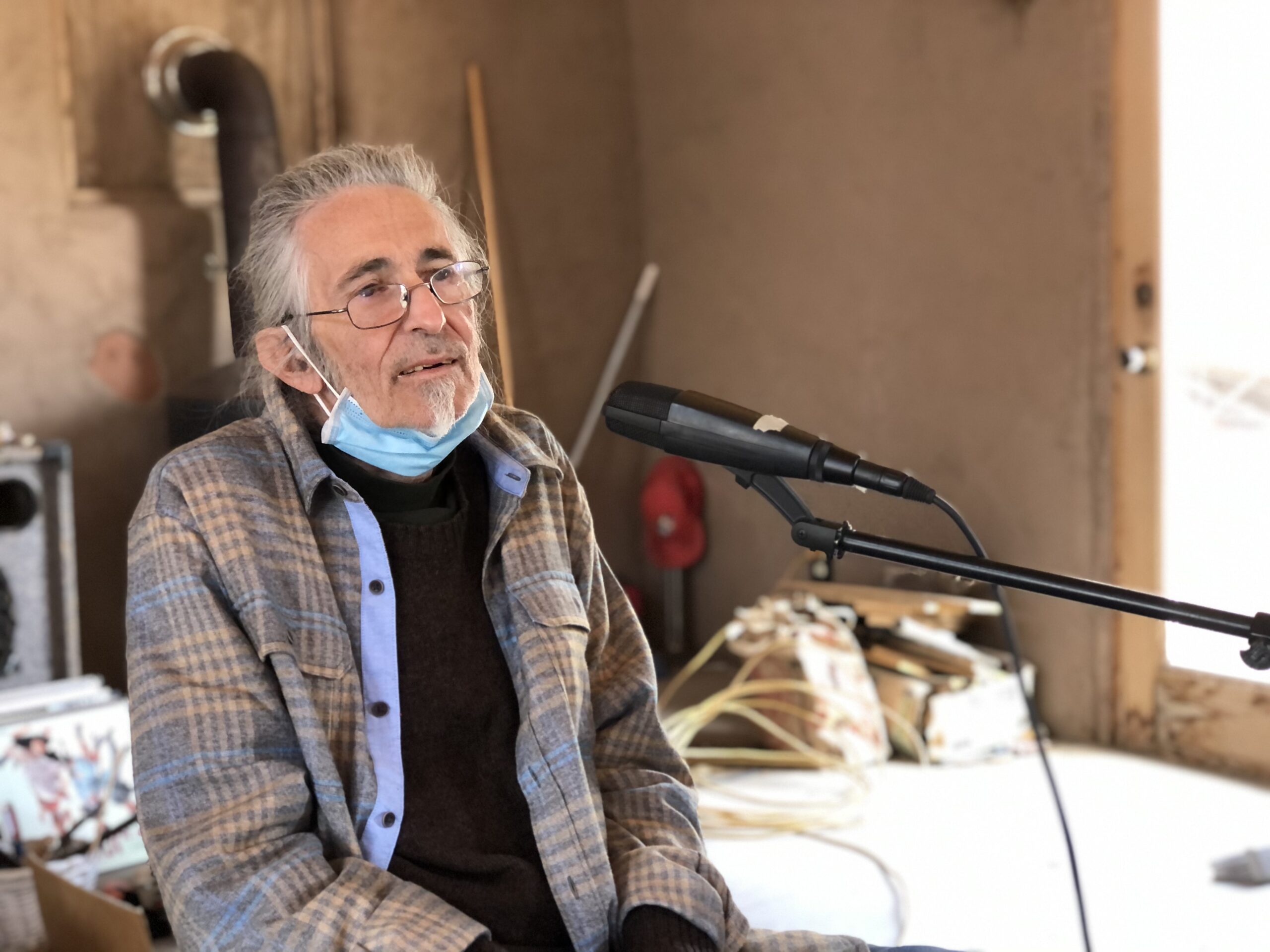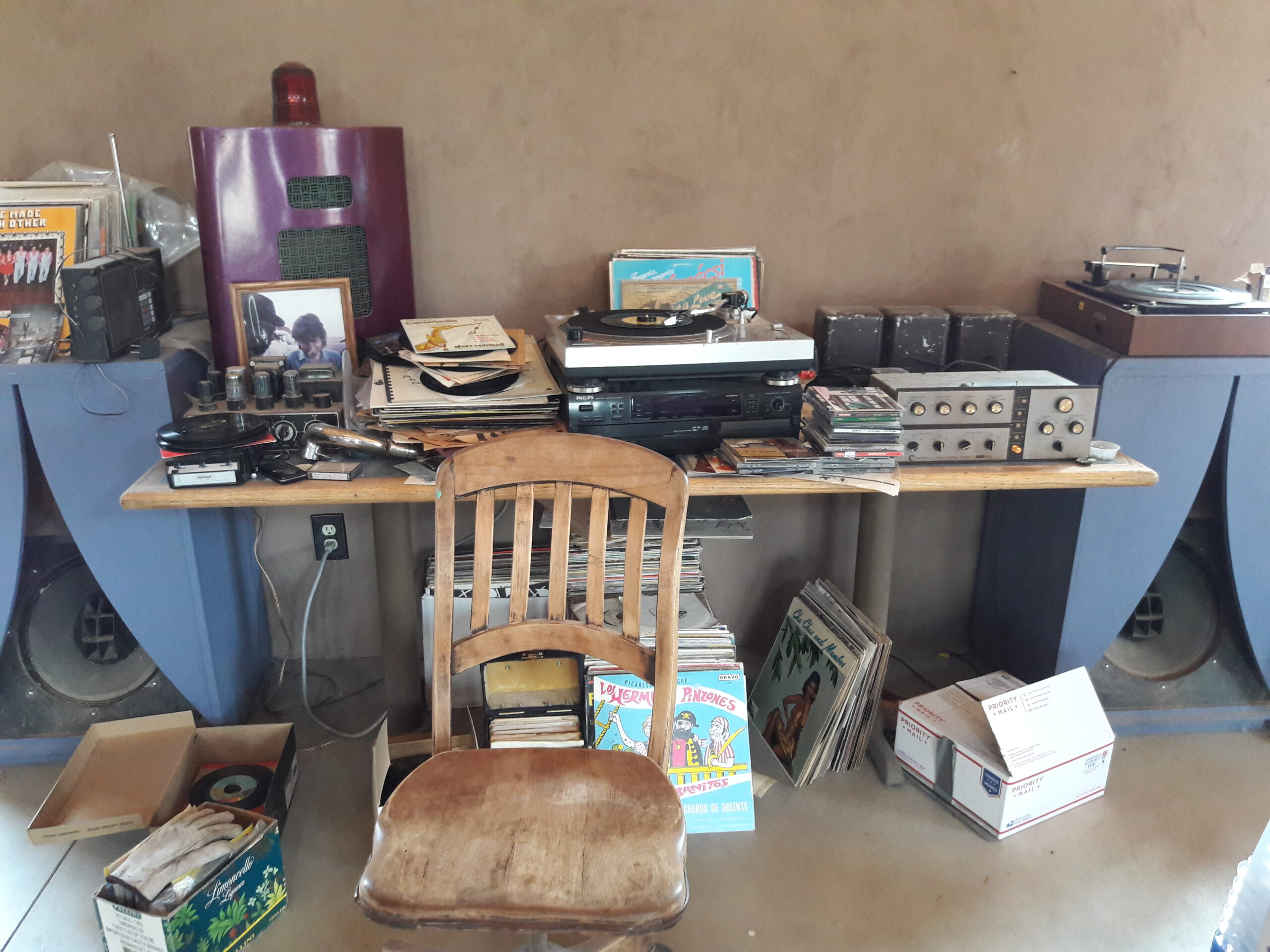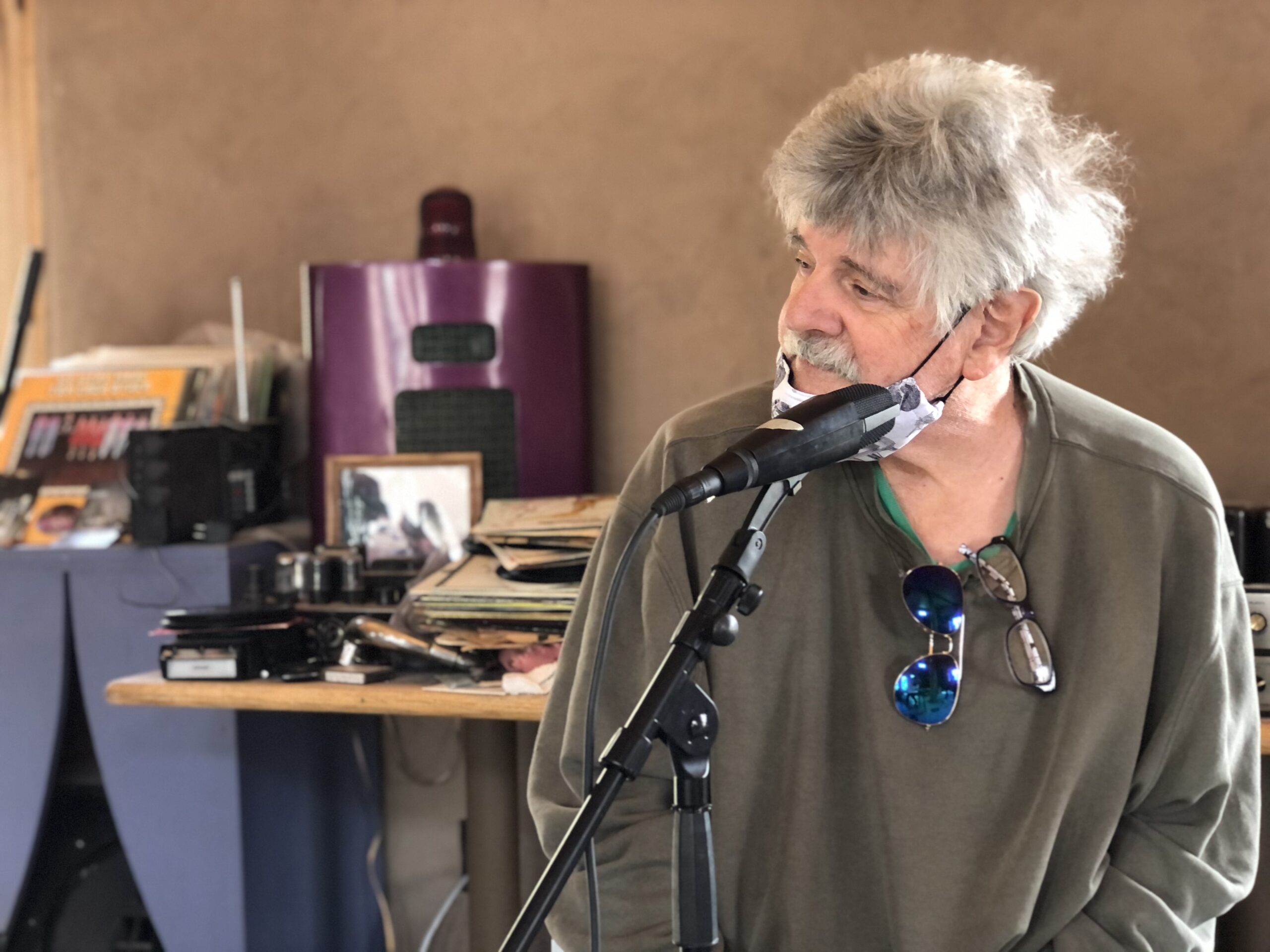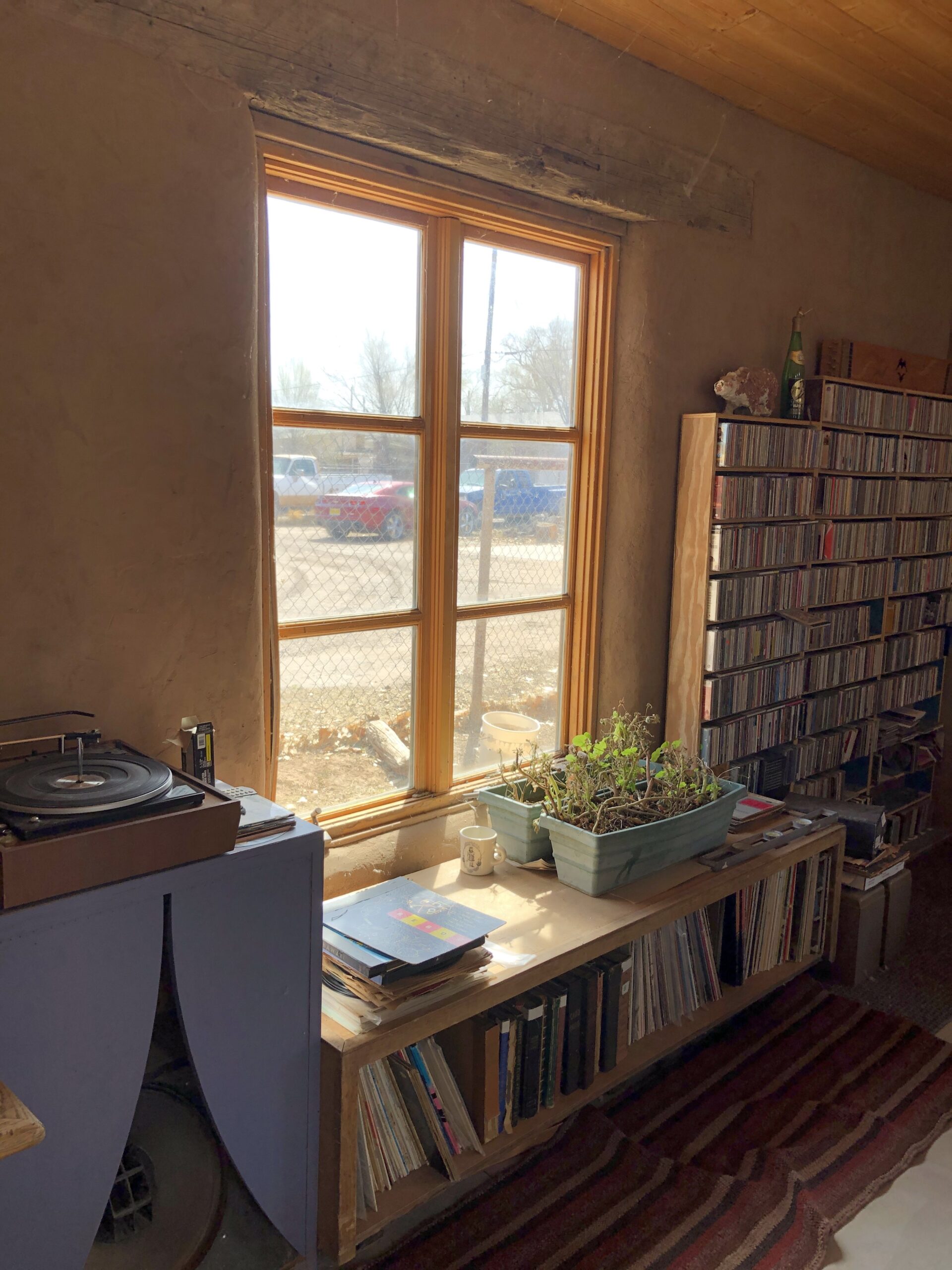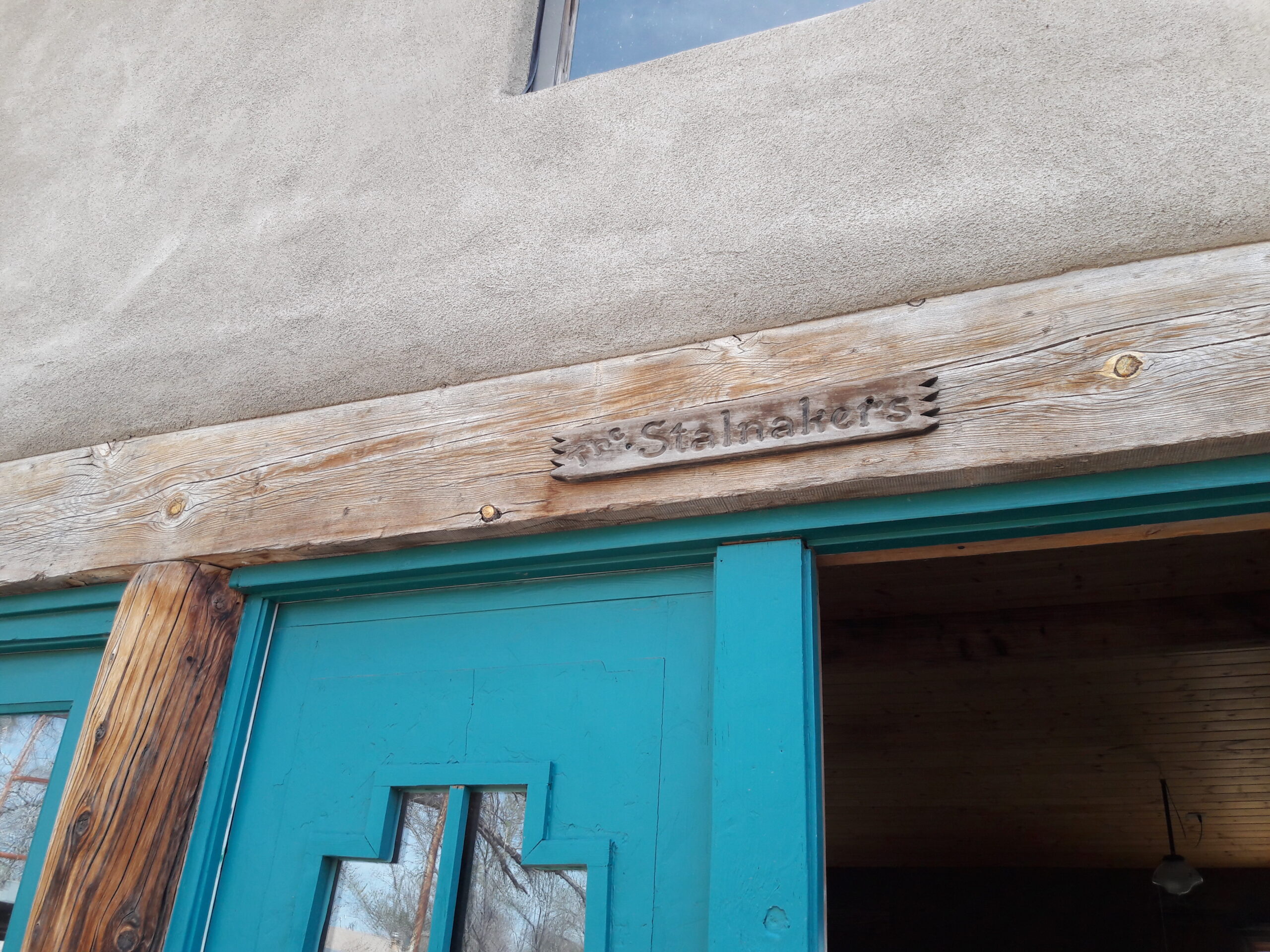 A box of 45 rpm records surrounded by more record-filled boxes.
A record in Stalnaker's collection of international and local New Mexican music.
Karl Stalnaker recounts the history of the Home of Happy Feet, a 48-year-old KUNM music show.
Karl Stalnaker's desk with turntables set between two large, recycled subwoofers.
Harry Norton reflects on his 50 years as a deejay.
A look at Stalnaker's South Valley studio.
Wooden plaque above Stalnaker's home studio.
The music comes from all around the world, but also has a distinct New Mexico flavor. The deejays often talk with a wide variety of musical guests.
Since the start of the pandemic, many of KUNM's volunteer deejays have kept away from the studios, including Stalnaker and Norton. So, I've been producing HHF archive shows this past year, along with KUNM's music director Matthew Finch. This article is based on a one-hour audio retrospective that I produced and aired in May 2021.
I interviewed Stalnaker and Norton over the past few months to get a better understanding of what is so unique about the show, its history, the importance of vinyl records, and what the deejays have been up to lately.
The Formation
HHF was born out of a folk show – The Sweet Zephyr Tickle – that was hosted on KUNM in the early '70s by Susan Scarberry.
Scarberry's husband, Barry Lauesen would take over the program and team up with Stalnaker to create the first iteration of Home of Happy Feet.
"She kind of recruited Barry and I when she figured she was leaving town," Stalnaker said.
Stalnaker said that he never saw deejaying as a career objective, but listened to records his whole life. As a kid, he would play Elvis Presley and Fats Domino records on his portable 45 rpm player and have sock hops in his bedroom with babysitters.
Stalnaker and Lauesen were later joined by Marilyn Altenbach, who passed away in 2014. Barry Lauesen later died in 2018.
In the early years, they were all spinning 78, 45, and 33⅓ rpm records in the basement studios of UNM's Student Union Building, where KUNM originated. (It's since moved a few buildings east to the top of Oñate Hall).
"It just felt really fun. And you know he, Barry, just totally loved music too. And we were very good friends just because of music," Stalnaker recalled. "It was just a way of sharing the love, which felt really good."
Norton also discovered KUNM in the mid-70s and would listen to HHF. He got involved as a volunteer deejay in 1986 with Afternoon Freeform. He would join HHF after Lauesen's death in 2018.
"We were huge fans of his Freeform show," Stalnaker said.
Norton said that his goal of deejaying was similar to Stalnaker's, not as a career but for fun and appreciation of music. His early deejaying experience started in England in 1971.
"My friend and I used to spin records between bands in the basement of my college in London," Norton said. "When they stopped playing, we would crank up music from our own collections."
A HHF Home
Stalnaker's studio is located behind his South Valley house. You walk from his front yard through a gate, into the back yard with two chickens and a rooster strutting about.
There are lots of different things on the property, like cars, outdoor furniture, and some planter beds with blooming flowers. You can tell that the Stalnakers have been here quite a long time.
Above the backyard studio's bright turquoise French doors is a homey touch – a wooden plaque with "The Stalnakers" carved into it.
Inside, the spacious ceiling is supported with wooden spiral beams. The sounds of records fill the space. The floor is strewn with boxes of records, pictures, and some tools – this place is a work in progress.
There are shelves of records and CDs and a little bed for afternoon naps. A desk with Karl's record players is on the back wall, set up between two large subwoofers. After spending five minutes or so in the studio, you can't help but let your eyes wander to all the knickknacks Stalnaker has collected over the years.
"I built the studio with help from some friends along the way, some big help from a few really close friends. It was a 10-year project that still isn't done," Stalnaker said, "but I did it mainly with salvaged parts."
Physical Media
Between Stalnaker and Norton, deejays who have been spinning and collecting records for decades, their physical media collections are immense. Where Stalnaker's home studio is filled with music, Norton's collection numbers in the thousands. Both collections are made up of vinyl and CDs.
"It makes me feel insignificant," Norton said of Stalknaker's collection.
"I just gotta say that Harry has an incredible record collection," Stalnaker said, going on to say that their wives have been incredibly supportive over the years with their deejaying, "They get suspicious every time they see us coming into the house with records under our arms."
Norton said that Stalnaker's knowledge of musical recordings is equally impressive.
"He likes to talk a lot about the music. Because he loves those 78s, he does a lot of research into those 78s," Norton said. "He seems to know a lot of this information even without going online to look it up. He just has that skill."
Tim Forrest, former KUNM producer and host, agreed.
"They [Karl Stanaker and Harry Norton] have very distinctive tastes, but they both have an incredible depth and width of musical knowledge," Forrest said. "They've amassed an incredible repertoire of music."
Preserving The Sound of 78s
No longer produced, 78s are records, heavy plastic disks that play at 78 revolutions per minute, a standard format used from the late 19th century until the mid 20th century.
As digital music is widely available, and the more dominant music format today, vinyl records have faded in and out of the cultural zeitgeist. But a lot of music on these records is only available in this format and unavailable on the internet.
HHF's unique sound partly comes from the pops and scratches of vinyl records, something you won't hear on commercial radio.
"When you heard a 78 rpm in the background, it's like 'who plays 78s?'," said Forrest, the former KUNM producer. "The Home of Happy Feet folks would bring their own 78 rpm styluses that they would have to put on the turntables in order to play these stacks of ancient, delicate records."
Norton recalled that KUNM General Manager Richard Towne is credited with finding a 78 rpm turntable with styluses (like thick needles) to keep letting deejays play these older records.
"When KUNM was moving away from turntables, it was important to keep them. Some music is still only available on vinyl. You can't play 33⅓'s on a 78 stylus," Norton explained.
Fortunately, some shops like Mississippi Records are in the business of preserving such records. Both Stalnaker and Norton are impressed with Mississippi Records. (Norton was pleased that they had a lot of Abner Jay.)
Looking Ahead
"I guess it's time for the pandemic to chill out," Stalnaker joked as we were discussing musical segues (the art of transitioning from one piece of music to another — an important aspect to any well-curated music show.) Segues are what Norton and Stalnaker dream about as they have enjoyed their time off.
When asked what they have planned for their first music set back, Stalnaker said that he only has his first song picked out.
"I figured we'll go from there," he said.
Norton said he has had a lot of time to listen to whole albums. Before the pandemic, he simply did not have the time to do so.
"I've been pulling stuff from the walls of my music room and beginning to stack into piles of music that I imagine I'm going to play fairly soon," Norton said.
Like many of us, these deejays are itching for some kind of normalcy after the pandemic is over.
"Harry and I just wanted to get back on the air, you know," Stalnaker said. "Hopefully, there will be plenty of segues left in the tank."
"Who Still Plays 78s?" A Home of Happy Feet Special airs May 11th at 7:00 p.m. on 89.9 KUNM-FM.
Bodie "Bo" Russell is a reporter for the New Mexico News Port. Follow @b0dier on Twitter.