By Noah Solomon
Struggling focus in front of a computer screen, feeling disoriented in front of a fuzzy camera, mourning the loss of social and physical interaction with others. These are the symptoms of Zoom fatigue, which some students say they're experiencing since UNM moved classes online last spring.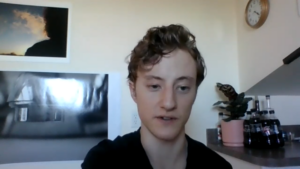 "For some reason, it feels so much more tiring being in front of a computer all day than actually going to class," said Kyler Parkinson, a fourth-year nursing student. "It wears me out in a way I don't understand because I'm not moving."
Instructors say they understand. "I find that if I try and hold students on Zoom for longer than an hour, they start checking out, and for no fault of their own," said Peter Lisignoli, who teaches in the Department of Film and Digital Arts. "Looking at a video of just a static person sitting in a room, talking… I'm blown away they can last a half-hour. To me, it's not a very visually interesting medium."
And videoconferencing can make learning some skills more difficult. Nursing student Karina Almanza says it was hard to learn how to insert a breathing tube through the nose by practicing on a piece of fruit, as her instructor had demonstrated on Zoom.
"It was stressful," Almanza said. "How am I going to mimic a nostril or a throat?"
Moving classes online may provide much needed flexibility during the pandemic, but that doesn't mean it's easy.
"I think I'm just broken," said Brenda Gonzales, 56, who is working on a doctorate while also raising three grandchildren from home at the same time. "I just miss the human connection. Zoom makes it hard to participate because you're constantly talking over each other."
Other effects are more subtle, says Emma Trentman, who teaches Arabic in the UNM Department of Foreign Languages and Literatures. She said being online-only makes it harder for her students to build a community around class.
"There's less opportunity for students to sort of do like the chit-chat before and after class," Trentman said. "You're not going to have that with 12 people facing you on Zoom."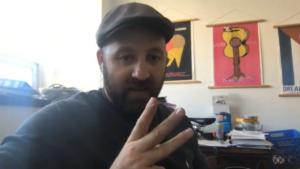 Lisignoli agrees that it is harder to build connections among his students when they're not physically interacting in a classroom, helping each other set up tripods and cameras. "When you miss out on that, it's hard to imagine yourself as part of a community. And what is a school if not a community?"
There are some advantages to distance learning, however. The pandemic has given students the opportunity forgo commuting to and from school and work, as well as extra time to ask questions.
"You don't have to commute for one; you can wake up later and have a little bit more sleep in the morning," said Makayla Otero, a UNM junior. "We have a longer time to ask questions. It doesn't feel rushed cause there would be another class coming in."
Another benefit of distance learning? "It's easy access to the pantry," Otero said.
---