Arid desert surrounds the fertile fields of Hatch, New Mexico. Located along a southern stretch of the Rio Grande River, the town of roughly 1,600 people is mostly comprised of farmers and laborers. Many have lived here for generations.
"This is a farming community, and if it weren't for the farmers and them, Hatch wouldn't be here," said Tina Cabrales, who has lived in Hatch her whole life and whose family before her has farmed the land for more than 80 years. Like many locals, her family plants and harvests green chile — a crop specific to Hatch.
"It is a part of our heritage," Cabrales said. "The farmers, the laborers, everybody is a part of this."
For two-days every year, from Sept. 2 – 3, Cabrales helps coordinate the annual Hatch Valley Chile Festival, drawing tens of thousands of visitors from around the world to get their chile fix. More than 70 vendors participate in the event, most of which are businesses local to Hatch. Some vendors sold hats, and others sold jerky, but most specialized in chile.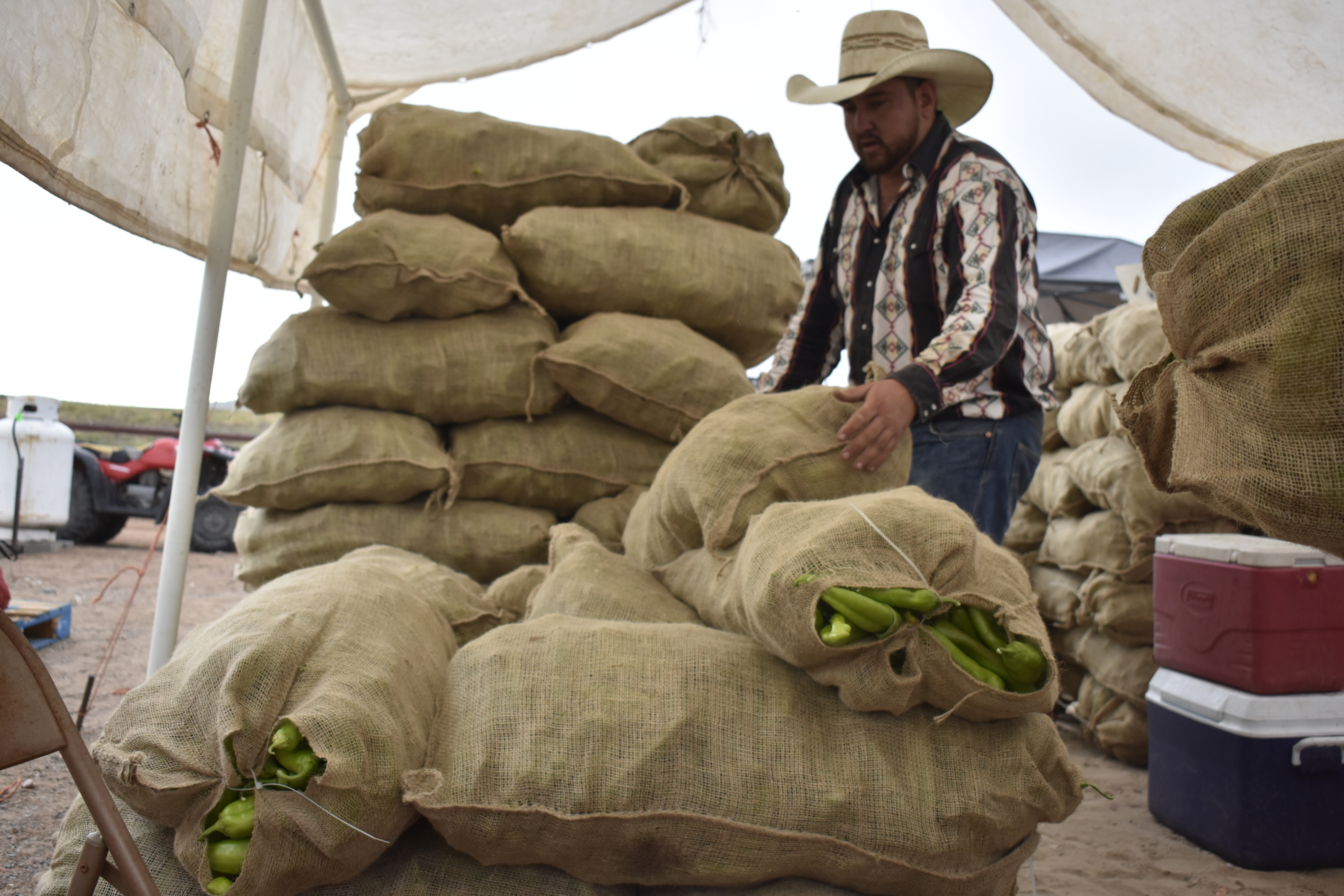 Visitors were greeted with trailers and pickup beds brimming with gunny sacks full of green chile, as families and workers stacked them in preparation for roasting.
Alonso Grajeda, a local farmer, had 150 sacks stacked to the top of his tent. Each sack weighed about 40 pounds. He said it was a pretty good harvest this year.
"It's tough work from sunup to sundown, everyday," Grajeda said. "Physically it's hard, but more than that, mentally, it's even worse."  
Grajeda has been working the land in Hatch for 10 years. When he isn't growing chiles from late-July to October, he grows onions, corn and alfalfa. He says it is a year-long job.
"It's tough in the way that you have to deal with a bunch of workers, a bunch of mechanical issues on the farm, weather wise, and it's hard on the mind, but I like it even though it's tough," he said.
From 25 acres of land planted for chiles, Grajeda said he harvested more than five tons of green chile and expected to sell all of it within the two-day chile festival.
Grajeda said the festival is key to the economy — especially considering all the jobs provided for field workers.
"Not only for us, as farmers, but also for the laborers, they depend on everything that's grown here in the valley," Grajeda said.
Water is another concern on Grajeda's mind. The farmers depend on water to raise healthy crops. Grajeda said the chile's size depends on the amount of water received — if it is a drier season, the chiles will be smaller and less spicy.
"Without any moisture, humidity and stuff like that, it starts to hurt the pods," Grajeda said.
The water worry affects many farmers in the southwest. In 2013, Texas took New Mexico to the Supreme Court regarding disputes over groundwater in a court case that is ongoing. Texas argued that too much groundwater south of Elephant Butte Reservoir — including the Hatch community — is being pumped to irrigate farms. Texas claimed it is not receiving its portion of water per the 1939 Rio Grande Compact.
Members of the Hatch community like Malva Aguirre — a local restaurant owner — depend on the farmers and laborers to keep her in business, so she shares their concern.
"If we don't have enough water, we are not going to have enough work for the people, and then, if there's no people, then there's no business," said Aguirre, who owns and operates the Pepper Pot.  
Despite the state's most recent drought, Aguirre said she is still hopeful about the future of the community.
"As long as it keeps snowing in Colorado, we will keep getting water," she said.
Regardless of their profession, everyone in the community depends on water to live. When the festival is over, life will return to its normal pace, Aguirre said. She will continue to start her day at 5 a.m. to greet and serve farmers and laborers before they take to the fields.