By Joaquin Gonzalez / NM News Port
In 2020, Mark Ronchetti ran for U.S. Senator from New Mexico – his first campaign for a political office – winning 46% of the vote and raising almost $4 million. Although Ronchetti lost against the Democrat Ben Ray Lujan, the Republican Ronchetti gained name recognition and widened his base of support. He now hopes to have his revenge at ballot box this November as he campaigns to defeat the current Governor, Michelle Lujan Grisham.
"We can get better, and we can do things better, and the worst thing that we can do is just assume that it is New Mexico, and that is how it is," Ronchetti said in his closing remarks during a TV debate in September. "We have to support a change to do it, and I would appreciate your vote"
From Vermont to New Mexico.
Mark Ronchetti has lived with his family in Albuquerque since he moved here in 1998 for a local TV station position. He earned his undergraduate degree from Washington State University in 1996 and a graduate diploma in meteorology from Mississippi State University some years later. During his professional career, he became a certified meteorologist and Chief Meteorologist for Albuquerque's CBS and FOX affiliates.
Ronchetti comes from a Catholic family that came to the United States from Italy in 1920, according to his biography on his web page. He was born and raised in Shelburne, Vermont, with his parents and siblings.
"Family is the basis of society and that, with education, anyone can pursue their dreams while seeking a better future," Ronchetti said on his site.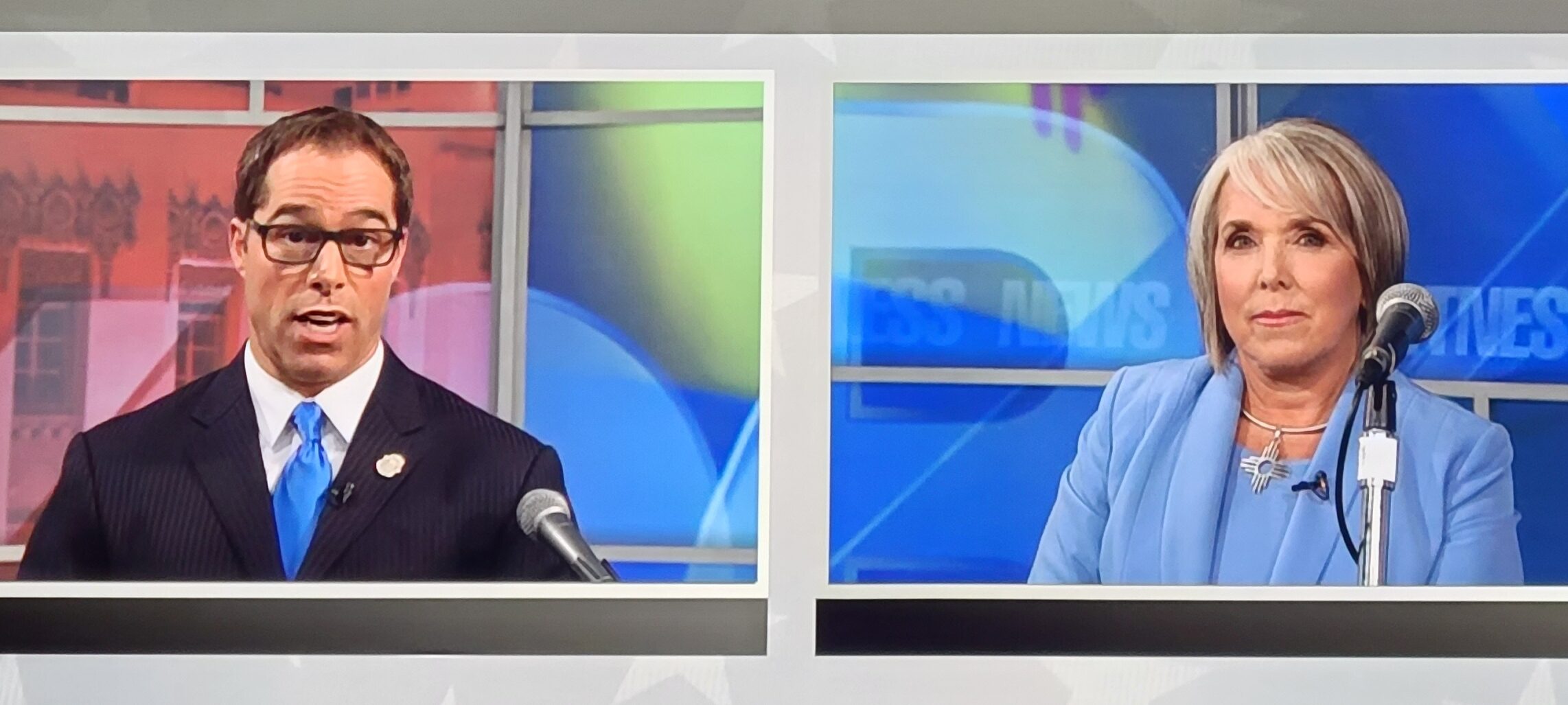 Running for office – again.
Ronchetti says he wants to run for governor because, for the last 24 years, he has lived in the state of New Mexico, and elected leaders in New Mexico too often put politics ahead of the people they represent.
Ronchetti has been raising more money in this race than in his previous race – many dollars coming from out-of-state sources. According to the NM Secretary of State's office, Ronchetti has raised $6,390,203 and has spent more than $3,977,573.
"I think you might want to look into how the race is financed," observed former state senator Dede Feldman, speaking to a UNM journalism class. "It's going to cost more than it did last time."
Ronchetti's main attack point: high crime rate in New Mexico.
Throughout his campaign, Ronchetti has highlighted crime and education as central issues in New Mexico.
The state is ranked among the most violent states in the nation, according to HouseGrail. This year, New Mexico has registered 164 homicides in the state, and more than 778 violent crimes per 100,000 people.
With this issue, Ronchetti plans to end what he calls "catch and release," secure the border, and support the police because he considers the present administration has been inefficient.
In a recent debate, he said crime is an everyday challenge.
"Everybody in Albuquerque lives it, Governor, we live it. We live the crime every day," he said. "It's the reason you're so out of touch with the problems."
New Mexico is ranked 50th in the quality of its education system. Only 26% of adults in New Mexico have a bachelor's degree, and there are many adults without a high school diploma: 15.4 percent compared with 14.4 percent regionally and 13 percent nationally, according to New Mexico Legislative Finance Committee.
These numbers are alarming, Ronchetti says, and he wants to approach this issue with an eight-point plan.
"If you think the education system is broken, this governor is the head of that system," Ronchetti said in the TV debate.
Abortion has also been a controversial issue in the campaign. Ronchetti has had to approach the issue carefully. Since the U.S Supreme Court's June decision overturning Roe V. Wade, New Mexico's governor has sworn to keep abortion legal in the state and has attacked Ronchetti as seeking to outlaw it.
Indeed, in August, the Planned Parenthood Votes New Mexico Independent Expenditure Committee highlighted his message in their ads. "I am pro-life, and I think we need to finish abortion in the state of New Mexico," Ronchetti is depicted as saying.
Even though Ronchetti stands with his statement, he also considers that no governor or state should impose a sensitive subject over other people's decisions. So, he proposes a constitutional amendment laid out by the legislature, where people have the right to vote on restricting or outlawing abortion.
Polls have Ronchetti losing so far.
Brittany Poss is the Director of Data and Analytics for Research and Polling Inc, a survey company that runs polling for the Albuquerque Journal. She says if the election were held today, Ronchetti would garner only about 40% of the vote.
Albuquerque Journal Poll August 2022, Topline Results
"Coming into this election season, we expected this to be a really good year for Republicans. But it's turning out to be a much better year for Democrats and than we thought it might be," Poss said, speaking to a journalism class at UNM.
She said what changed was the national sentiment toward President Biden and the Democrats — due to passage of an inflation reduction act, the drop in gas prices, and the abortion decision by the Supreme Court.
Poss says the data show Ronchetti's base of followers are largely white men and less educated.
Long-time political observer and former New Mexico State Senator Dede Feldman compared Ronchetti to other Republican candidates running as celebrities, banking on their name recognition and public popularity.
"I think Ronchetti is similar to other candidates across the country, who are celebrities entering politics on the Republican side," she said. "They portray themselves as the non-politician, who's just like us, and therefore, qualified to run for office on that basis, which to me is a very dangerous premise."
Feldman, a Lujan Grisham supporter, says Ronchetti doesn't have the political experience to lead New Mexico.
Ronchetti responds to this criticism by touting his outsider status — a newcomer that can upend the insiders in state politics.
"The current Governor would share tonight that I haven't been in government long enough or I don't have the government experience to solve these (issues)," Ronchetti said in his TV debate with Lujan Grisham, "but the experience of the last years has us to where we are."