By Anthony Romero-Kleve
Grace Calderon looked out over the 18-acre property in Montezuma, New Mexico where she and her husband had been renovating a small house for their retirement. The fire had licked at the house but destroyed the shed in which they had been storing all the materials needed to finish the home.
Inside were lumber, drywall, sinks and flooring, about $8,000 worth of stuff it had taken them four years to accumulate.
"We got everything we could and we got out," when the evacuation orders for her property came through, Calderon said.
The issue Grace now faces is finding compensation for the damages. Because her current address was in Santa Fe prior to the fires, FEMA and the Red Cross could not help her. FEMA states on their website "we do not offer housing assistance for secondary homes, only for your primary residence." 
Calderons' was just one of the over 900 buildings destroyed by the combined flames.
The fires, which grew from prescribed burns by the National Forest Service, destroyed almost 342,000 acres around Las Vegas between April and August, causing President Biden to declare a national emergency.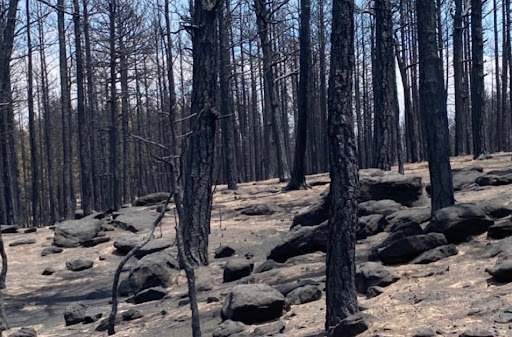 According to 350 New Mexico, climate change within recent years has impacted the state with drier conditions and increased temperature, making wildfires overall more severe and frequent. A strong majority of New Mexicans say they are concerned about climate change according to a poll conducted by the Environmental Defense Fund, but some say the state isn't moving quickly enough to prepare for increased impacts such as fire, flooding and other unpredictable weather events.
"People aren't concerned enough," about climate change, said Shane Woolbright, a retired executive who worked in the electrical industry for decades.
"Wind is a fabulous resource, it is by far the cheapest way to generate electricity," Woolbright said. Solar is an excellent option but New Mexicans have been slow to adopt solar, he said.
Meanwhile, U.S. Rep. Teresa Leger Fernandez led the fight to bring $2.5 billion in federal aid to victims of the Hermit's Peak and Calf Canyon wildfires.
"Teresa was a dog on getting funds for the fire," said Ken Hughes, of the Rio Grande Chapter of the Sierra Club. 
Hughes said it was good to see the Community Solar Act and the Sustainability Tax Credit reinstated, but is even more excited to see upcoming bills the Water Planning Act go to the floor.
Michael Jensen, communications director for Conservation Voters New Mexico, is aiming to see more sustainable and renewable resources measures on the floor. Jensen and CVNM are continuing their work, but aren't having an easy time.
"Unfortunately, for some time now…anti-conservation members of legislature…have worked to defeat legislation like this," Jensen said of bills that would increase electric vehicle charging stations and energy efficient measures in low income housing.
Jensen said fighting for renewables was an uphill battle against the power and influence of New Mexico's oil and gas industry.
The industry generates about one-third of the state's revenue, almost $3 billion from taxes and royalties, according to a report published by New Mexico Gas and Oil association.
Alexis Martinez Johnson, Republican running against Teresa Leger Fernandez in the upcoming elections, is a fan of the oil industry. "New Mexico energy independence is key to American energy independence," she wrote in response to an Albuquerque Journal questionnaire asking about her position on climate change.
"Here in New Mexico, we have a plethora of oil and gas", Martinez Johnson said on Fox News back in March when the Ukraine war started, commenting on the urgent necessity for natural resources. "Putin has us where he wants us", she continued, "and frankly our world is more unstable.
"The urgent problem I see is needed is proper policy and management of those forests", Martinez Johnson remarked about the recent wildfires on New Mexico PBS in late October. "I think what we should do…we need to have people that have the know-how", she remarked regarding climate change concern in New Mexico.
Our current representative agrees in the area of finding the right people. We have our national labs, Sandia and Los Alamos, together with some of our amazing research universities at UNM, New Mexico Tech and NMSU,' Leger Fernandez told the NM Political Report in early October.
"We're going to invest in that transition from fossil fuels to wind and solar. To do that, we need to provide job training in the new industries," Leger Fernandez said on the same report in contrast to her opponent.
"Fossil fuel companies have abandoned hundreds of thousands of oil and gas wells that pollute our air and water and pose serious public health risks", Leger Fernandez summed in a tweet slamming the natural resource industry back in April 2021.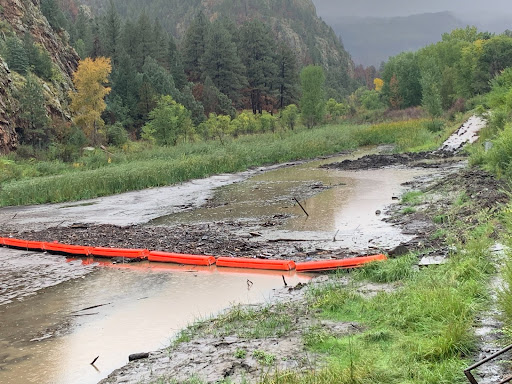 As for the state looking into forest fires recently, it doesn't seem like the method of prescribed burns will stop. "You can never be 100% sure that prescribed burns are gonna have problems, but you can do a lot more than what has been done to make sure they don't mess up," Jensen added alongside the issues within the forest service, "as much as people are focused on what's going on in federal and state forest lands, there's a lot of work that needs to be done on how private lands are being managed and how their dealing with naturally caused or accidentally fires."
With the closing threat of climate change, and who's helming these issues, these prescribed fires may become far more difficult to control, and with the additional heat and drier conditions, may deliver far more damage to the lands they reach.
And depending where the next fire begins, can only speculate how many more people can face losing their property, home and belongings, or worse, their life.
As for the repercussions suffered now, many people are looking for compensation.
"It makes me more appreciative for what I have, since I didn't lose everything, but I shouldn't have lost anything at all", Grace Calderon said reflecting on the property she lost. She plans to consult with an attorney regarding her options for compensation.