By Joey Wagner and Mason Seidel/ NM News Port
The status of reproductive rights in New Mexico won't be in the hands of the newly elected on Nov. 8.
If Congress passes a national law to protect or ban abortion, it is likely to remain legal in New Mexico for the near future.
The Democrat-controlled legislature recently repealed a 1969 law banning abortion and any change to that would require an unprecedented significant shift in the makeup of the Legislature. Democrats outnumber Republicans in the state House 45–24 and in the past 30 years, neither party has gained or lost more than nine House seats in any election.
Since the U.S. Supreme Court overturned Roe v. Wade, neighboring states including Texas, Utah, Oklahoma and Arizona have restricted abortion access and patients have flocked to New Mexico.
"We've seen an increase in people coming from Texas and Oklahoma since September 1st of last year," said Joan LaMunyon Sanford, executive director of the New Mexico Religious Coalition for Reproductive Choice.
According to the New York Times, there are only 13 states where abortion is entirely banned. Georgia has a six-week ban in effect, meaning abortions are illegal after the six week period.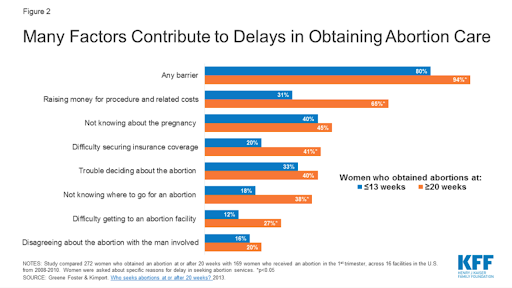 "Anything that makes abortion harder, makes it take longer." said Sanford.
The decreasing number of abortion clinics declining since 1980 haven't helped. As a result of this approximately 48% of New Mexican women have no easily accessible abortion clinics in their county.
The state's democratic party openly support abortion-rights, whereas the republican party supports anti-abortion sentiments as a plank, despite the lack of power to enact any bans in the near future.
"If there is a governor elected who is not [in support of reproductive rights] it will cause issues. There are things a governor can use like executive orders and budgetary controls that could impact to some extent the access women have to reproductive healthcare," said Linda Siegle, an NM pro-abortion rights lobbyist.
When signed in 2021 by Gov. Lujan Grisham, a strong supporter of abortion rights, the state Legislature passed a repeal of that bill in 2021.
"As more states move to restrict and prohibit access to abortion and reproductive care, New Mexico will continue to not only protect access, but to expand and strengthen reproductive health care throughout the state," Gov. Lujan Grisham said in an Oct. 6 press release.