Noah Solomon / NM News Port
Ellie Aikman's UNM experience has been a whirlwind since last spring. She was frustrated when she received the email over spring break 2020 to return to Hokona Hall to collect her belongings by March 26 before they were donated to Lobo Reclaim.
"[I] got the email that said 'hey, you have to come and move your stuff out' and then we had to get up here the same day that I got the email. They gave us no time."
Aikman, 20, a Sophomore Photography major, lives three hours away in House, New Mexico in Quay County, along the northeastern border of Texas.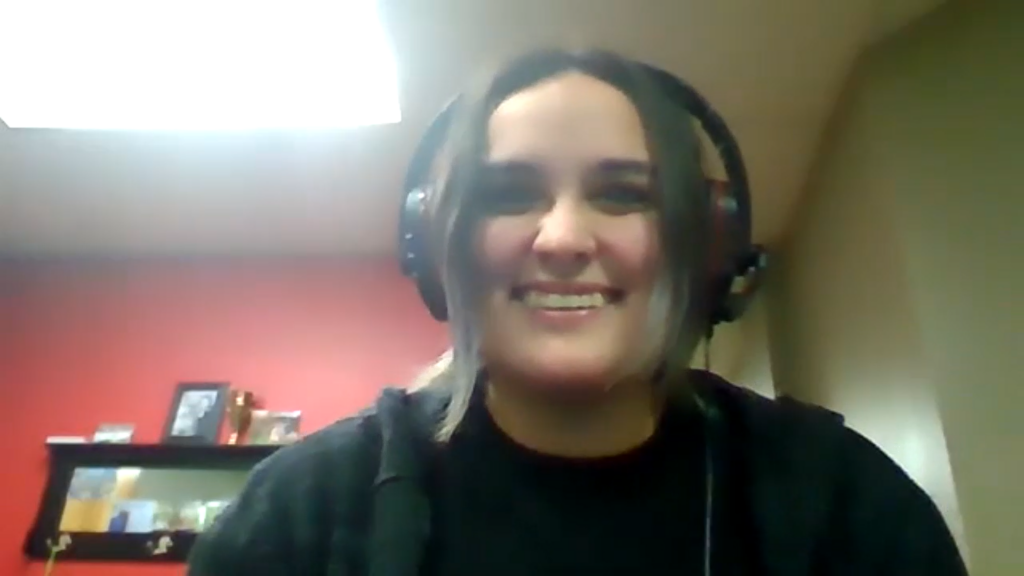 "I had to drive the three hours to campus and then my family helped me move out. And we had to be out within an hour or two. Maybe three tops. Moving out was stressful because of how far away I lived and getting everything out in such a quick time frame."
When asked about UNM's plans to reopen the campus in the Fall, her response was more enthusiastic: "I really hope they are. I think that it's easier to learn in person compared to online."
UNM announced in late February that it would aim for in-person instruction in the fall. The response to this announcement by students and faculty have been curiosity, excitement, worry and largely relief.
Rylee Norman, a freshman studying film and digital media arts, said her first transition from high school to college was difficult because of the missed experience in a classroom, not knowing what in-person college classes are supposed to be.
"It's been rough this semester since I took two [level] 300 classes online; I'd say I'm not learning as much as I'd like to."
Pamela Cheek, Associate Provost for Student Success, spoke about students trying to balance their social life while also attending classes remotely, and the difficulty it was to learn and establish social connections: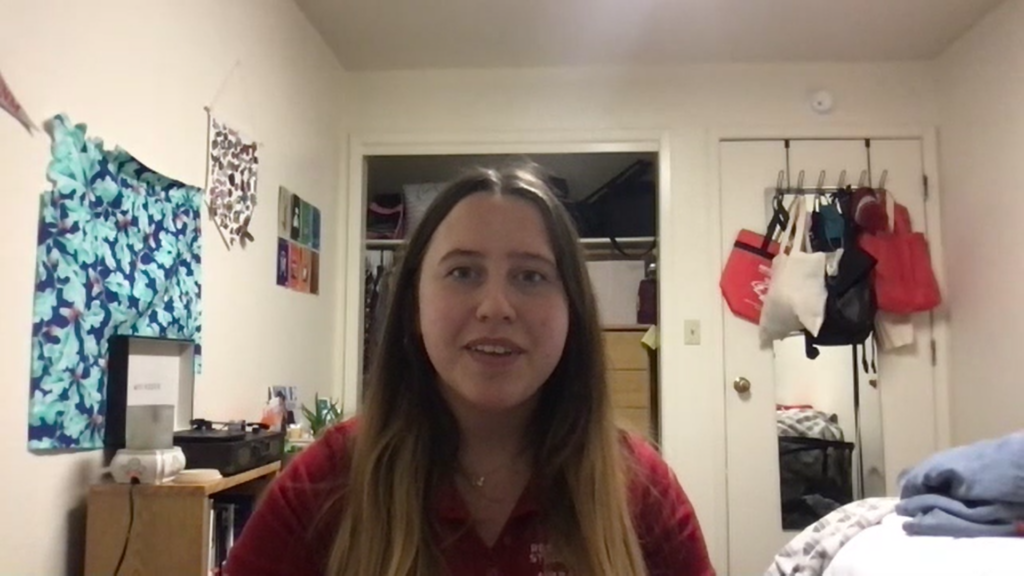 "It's been a tough pandemic, for everyone. We want students to be able to have an exciting, rich environment in which they have social connections to other students. The classroom is being connected to your faculty and other students in the class; it's part of that rich environment."
For incoming freshman that rich environment was a majority choice:
an impact study in 2020 by Simpson Scarborough, a higher education research firm, listed 39% of incoming freshman would prefer to stay home and take classes online and 17% willing to take face-to-face classes.
Like Aikman, Norman expressed her excitement about returning to face-to-face classes in the fall semester, adding it will give her the chance to live that missed experience:
"I don't know what normal college life would be like. The college social life… even just school days going to Mitchell Hall or Dane Smith and it being absolutely terrible. I've heard about that.
UNM's push to face-to-face classes in the Fall garnered a lot of positive attention from students. These students typically are in studies that require a lot of hands-on training and learning.
Antonio DeDios, a Junior studying Video Production, says his major requires that hands-on learning in order to understand the basic functions of video equipment.
"Things like that, you need to have that in person. It can't be done over a Zoom call. If it is it isn't done to the best of its ability."
DeDios also mentioned checking out equipment from "The Cage" in the Sound Department was also a hassle when UNM shifted to online learning. The Cage is an area that holds equipment for students to check out and use for their purposes for a certain amount of time during the week.
The system is to sign up to check out equipment on one website, and then sign up at that same time on another website in order to make an appointment to physically receive the equipment.
"It seemed like too much of a hassle," he said, "so I didn't get the chance to get the [sound] recorder and try it out."
Aikman expressed her feelings about losing out on studio hours for her major, saying it's costly both in learning and monetarily:
"They canceled black-and-white photography this fall and it broke my heart because I wanted to take it," she said. "Studio classes are much easier to learn in person."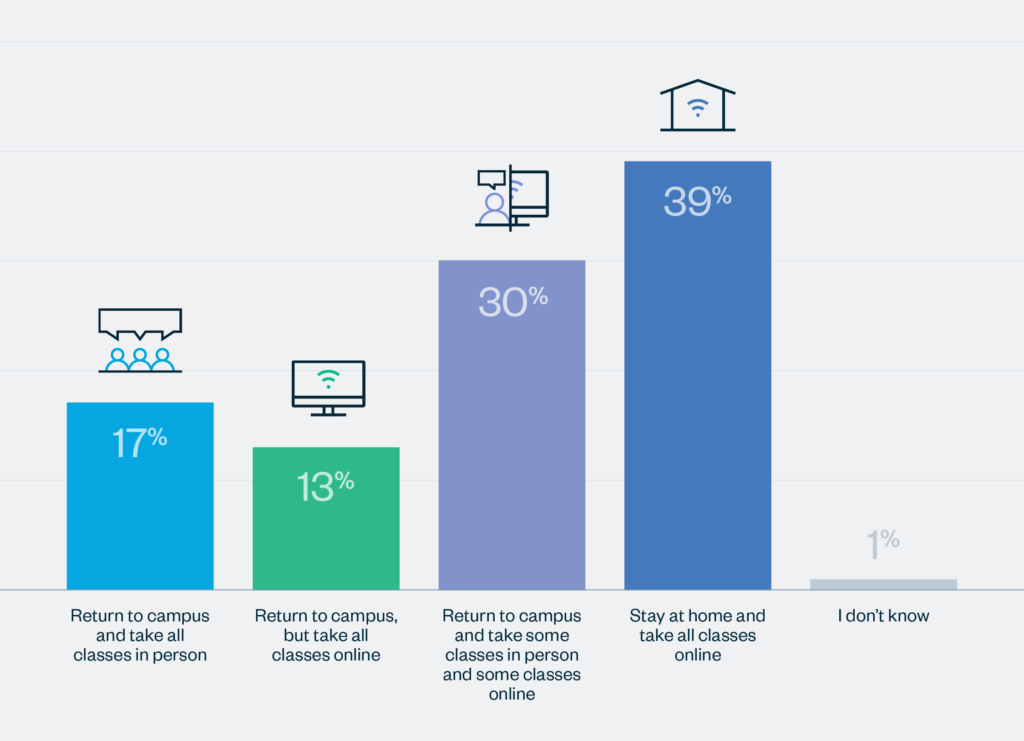 Part of Aikman's want for in-person learning has to do with the studio fee she is being charged $300 to $400 per studio class while still learning remotely. Such student fees are a result of colleges across the country losing money since the pandemic began, forcing schools to recoup the expenses through higher fees and tuition increases.
Aikman feels returning to the classroom will help her in her studies and put her money to good use, instead of being charged money while not being able to use the facilities: "I want to be in the studio and I want to be printing out physical photos."
Students aren't the only ones responding: faculty across campus also shared their input in returning to face-to-face classes this fall.
Cheek describes the faculty response as a mixture of joy and worry, citing the hard work faculty has poured into their delivery for students but also understanding the realism of the situation:
"There's anxiety as individuals wait for their own vaccinations and also experience concern about family members, about students, about themselves. We know that the fall is going to be different from it is now.
Kirk Mitchell, an instructor in the Film & Digital Media department, said getting back to classes is a wait and see numbers game over the summer, but overall UNM's plan is on the right track.
"I think UNM and the City of Albuquerque have done a pretty good job. Their messaging has been consistent. They've been honest about the fact 'we don't know how these things are going to work out, so let's be cautious.'"
Sushilla Knottenbelt, a lecturer in the chemistry department, expressed her joy about returning to see her students again, citing the university's optimistic attitude of returning face-to-face due to the state's job of getting people vaccinated:
"I hope that in addition to faculty, most students can be vaccinated by the start of classes. I have missed face-to-face interactions with my students more than I can express."
While UNM plans to reopen the campus and the classrooms, Zoom isn't completely dismantled yet.
While the fall 2020 semester was especially hard on entering freshmen and even harder on entering graduate students, Zoom still kept the barrier between health and COVID alive.
Victoria Peña-Parr, 21, finished her senior year of undergraduate studies during the pandemic and started her master's program in Southwest Spanish during the fall of 2020. Her experience with online learning during the pandemic echoes with other graduate students: long hours, fatigue, and adapting gradually to the schedule.
"There's definitely a lot of Zoom fatigue because graduate courses are always three hours long," she said. "And then you are also teaching three hours a week. Essentially, you add up a lot of hours online."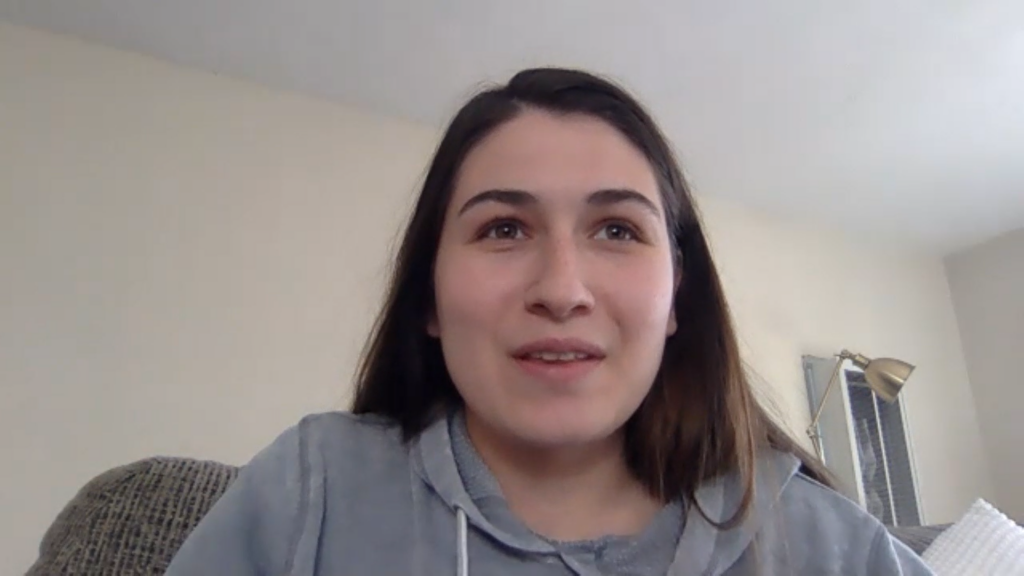 However, graduate student Victoria Peña-Parr, 21, says she's anxious about coming back to class and getting COVID, taking online courses over face-to-face learning: "It's definitely something I would prefer over being exposed to COVID. That's a personal preference I have."
Tamar Ginossar, associate chair of communication and journalism, supports Peña-Parr's reason in terms of remote learning, saying moving directly to face-to-face classes as the majority of options lessens the ability to learn how effective remote learning was:
"I think it is unfortunate that [UNM] doesn't look for an attempt to assess how synchronous [classes] was working and how it was effective and how it could be potentially incorporated in the future, regardless of the pandemic. I think we are missing an opportunity to learn about new modalities."
Ginossar isn't alone. Knottenbelt says she found her synchronous classes surprisingly effective, with her students staying connected and able to learn a lot and chose to incorporate Zoom breakout rooms for group work:
"I am sure this would be more effective than a fully online asynchronous class and possibly more effective than a hybrid modality. In an ideal world, if full face-to-face was not possible, I would like instructors to have the flexibility to offer remote synchronous classes if they could provide evidence that students learned and responded well to that modality in a previous semester."
Ultimately, given the choice between choosing face-to-face classes and remote learning, Peña-Parr would drop the class if the decision was to be made right now. However, her view on returning in the fall would depend on how safe the classrooms are being kept by UNM:
"I would look forward to [returning] as long as it was done in a safe manner. If these classes are going to put people at risk, then I don't think we should do it. If for sure everyone in New Mexico is going to be vaccinated by that point, then, yeah, we should go for a sense of normalcy."
Noah Solomon is a freelance reporter for the New Mexico News Port. Follow him on Twitter @NASolomon_01.