By Rayes Gallegos / NM News Port
Just before Christmas last year my father spent two nights in his room with what he thought was a headache. I, a paranoid COVID-19 germophobe, intent on not getting the virus, wiped every square inch of the house with Clorox wipes. Then, on Christmas day, my fears were confirmed when my mother and father tested positive for the coronavirus. My sister and I tested positive a couple of days later. What a Christmas present!
I was racked with pulsating headaches and muscle and joint pain. I dashed through the halls filled with decorations and gift wrapping to the medicine cabinet. Peering over the pill bottles, I realized no over-the-counter drug could relieve the symptoms of COVID-19. I needed posole. I padded into the kitchen in my new red Santa Claus pajamas and investigated the pot of posole that my aunt had brought as a tried-and-true home remedy. I poured myself a bowl and breathed in the rich aroma, giving thanks I still had my sense of taste and smell.
I carried my bowl into the living room to find the rest of the family, in their matching PJs, already tucking into bowls of posole on the sofa. Being sick wasn't on my Christmas list but posole and spending time with my family made it much better.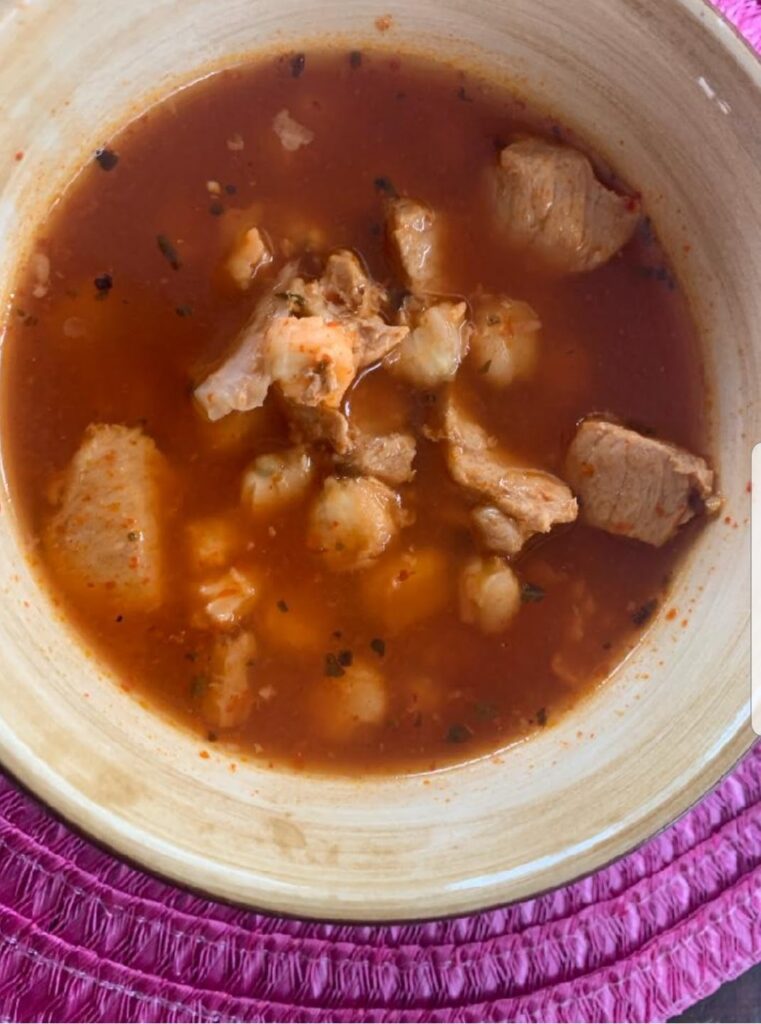 In the Gallegos household, we make posole for special occasions, but especially Christmas. We used to gather at my Grandma Ester's house to make the soup with her. When we were little she would let us wash the pigs' feet and stir the hominy. Now that she is getting older we have Christmas at my parents' house but posole still signals the arrival of Christmas and brings back memories of our childhood.
Grandma Ester, my mothers' mom, grew up in Mexico, where her family would serve posole for all festivities, especially Christmas. "I would see my mom make the posole the night before and sneak a bowl of it into my room and She would say, 'How come it sounds like you're eating?"," Grandma Ester told me recently, laughing at the memory. Ester would make posole using red chile, hominy, pork stew meat and hominy, which she continued when she moved to the United States
Ester moved to the United States when she was 31 years old. When Ester tastes posole she feels the love and joy her mother cooked with When Grandma Ester sees her family gather during Christmas time eating her world-famous posole she feels joyful because the tradition she was taught is kept alive.
My father's mother, Grandma Rose, grew up in the tiny farming community of Seboyeta, at the foot of Mt. Taylor. Posole was a big part of their Christmas, and often the highlight of the holiday in lean times when presents were scarce. "My mom and dad aren't alive anymore and I miss them during Christmas time because we always got together at my mom's," she told me.
In the Gallegos family posole is a tradition passed on from one generation to the next. That very tradition puts a smile on our elders' face but when we taste it we are reminded of our loved ones and cherish the times we spent together. My mom would describe it to me as that scene in the movie Ratatouille when the inspector tastes the dish his mom used to make him.
What exactly is posole you ask?
Posole is a Mexican stew comprised of hominy, pork and red chile. The Hominy is made of dried maize corn adding a tender flavor. Hominy is made through a process known in Central America as Nixtamalization.
The pork meat in posole provides a chewy texture that goes well with the hominy texture. It is like that of a medium-well steak it's got a solid texture but it is chewable enough to enjoy it. The red chile adds that spicy flavor while at the same time providing a warm feeling. It's not the type of hot chile that is unbearable to eat it's just right as Goldilocks would say.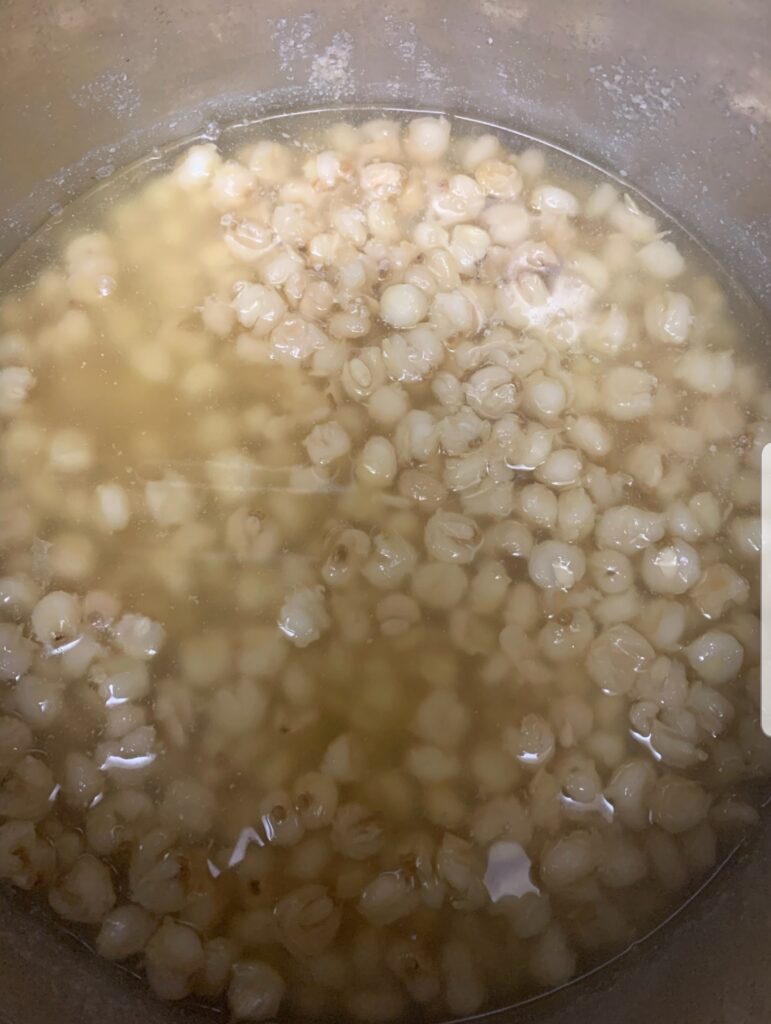 Some variations of posole include green chile, no chile, and vegetarian posole. In the Gallegos family, we make Mexican posole with red chile, hominy, pork, and pigs feet. We absolutely love to include oregano, salt and most importantly of them all lime to give it a kick.
Grandma Esters' Classic Posole
Makes approximately 35 bowls.
Ingredients
4 pounds canned hominy
2 pounds pork stew meat
2.5 pounds pigs' feet
1.5 pounds frozen Bueno red chile puree, thawed
1 teaspoon all-purpose flour
3 large cloves of garlic
1teaspoon Mexican oregano
Salt, to taste
Lime wedges, optional
1 medium diced white onion
Method
Rinse hominy in a colander until the water runs clear. Put hominy in a pot, cover with fresh water and bring to boil over medium heat and cook for 40 minutes until boiling and hominy expands. Set aside to cool.
Rinse pork stew meat, add to a second pot, cover with fresh water and bring to a boil over medium. Reduce heat and simmer until cooked through. Drain and set aside to cool.
Rinse and scrub pigs' feet thoroughly, add to a third pot, cover with fresh water and bring to a boil over medium heat. Reduce heat to a simmer and cook for an hour until meat separates from bone and water looks greasy. Then set aside to cool.
In a large saucepan, combine the chile puree. Add the flour and stir to get rid of lumps. Add 3 large cloves of chopped garlic. Bring to a boil over medium heat then turn off the heat and set aside.
In a clean, large pot, combine the stew meat, pigs; feet and hominy. Add the chile puree and Mexican oregano. Add salt to taste. Place on medium heat to boil for 30 minutes and stir occasionally.
Serve hot, with limes and onions, if desired.
Place posole in a container in the fridge for up to 5 days.
Rayes Gallegos is a reporter for New Mexico News Port. Rayes can be reached on Twitter @Anthony15778035.