By Connor Currier/ New Mexico Press Association
New Mexico Gov. Michelle Lujan Grisham said the state's film industry is flourishing and presents new opportunities for students interested in pursuing an education in fine arts.
The state's growing film industry has created challenges and opportunities for the University of New Mexico and its students. Department Chair of UNM Film & Digital Arts, James Stone, said the department is in need of more funding due to the growth of the state's film industry.
"The department has seen a huge increase in majors and pre-majors over the last six years, from 256 to 616, making it one of the fastest-growing programs at UNM. If we are to continue offering students a cutting-edge digital media education, high-end facilities are vitally important," Stone said in an article published Oct. 8, 2022 by UNM Newsroom
The department has faced a growing waitlist of students who wish to major in and take fine arts classes, according to the article.
Lujan Grisham said in a July 18 statement that the film, TV and digital media production spending in New Mexico surpassed $2.2 billion during the past three fiscal years.
"The investments in New Mexico by the film and media industry are delivering higher wages and creating cascading positive economic impacts in communities large and small across the state," Lujan Grisham said.
Data shared by the governor's office indicated the median hourly wages for industry workers increased to $35.51 in the past year, up 21%.
In 2018 Netflix announced a new production studio was to be built in New Mexico, and pledged $1 billion to construction within a decade.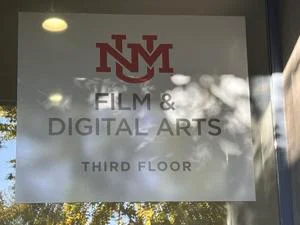 Cyndy McCrossen, film liaison for the Albuquerque Film Office, said there was an influx of engagement in the film sector in New Mexico.
"There are many more opportunities for people with fine arts backgrounds in the film industry, it's a creative industry of course," McCrossen said.
Santiago Dominguez, a fine arts student at the University of New Mexico, said he wants to be a film production designer.
"I love creating and designing sets for plays here at UNM. I think New Mexico now more than ever offers students and people wanting to get in this space the opportunity they have never gotten before," Dominguez said.
---
This article was produced as part of the NMPA College Journalism Workshop and originally published on nmpress.org.