By Talullah Begaye / NM News Port
ALBUQUERQUE, N.M.— When the pandemic forced the Institute of American Indian Arts in Santa Fe to shut its doors in March 2020, Chickasaw and Choctaw student Faithlyn Seawright headed home to Oklahoma. Her teachers transitioned to teaching on Zoom and she started selling beadwork and prints on Facebook and Etsy after her in-person work-study job disappeared. Without the school's broadband, she had to rely on her phone for internet access. On top of it, all her uncle died.
"There's some people you don't see leaving," Seawright said. "You think they'll be there forever, longer than you will be," Seawright said. "We're still going through the grieving process."
Now, in the second year of the pandemic, Native American college students are grappling to get back on track academically, financially and mentally. UNM's Student Health and Counseling Center has reached out specifically to Native students, some of whom may not be accustomed to seeking help for mental health.
And although Native Americans have the highest vaccination rates in the state, they also have the highest rates of COVID-19 hospitalizations and deaths. Aaron Eyachabbe (Chickasaw/Choctaw/Seminole/Creek/Yuchi) said one of his tribes lost nearly half of their native speakers—mostly elders—due to COVID-19. That made him worry about losing his culture alongside the community members.
"We're very social people. We always like laughing with each other and being together," Eyachabbe said. But COVID-19 suddenly made social events dangerous.
Several Native students interviewed for this story said they had family and community members die during the pandemic and those losses took an emotional toll on them. Each had to grieve while staying on top of their school work, leaning on the communities around them for emotional support.
"In the pandemic, you realize how precious everything is and what you took for granted," Eyachabbe said. He now feels motivated to revitalize his languages and culture.
Native Americans make up only 5.6% of the student body on main campus. Reaching them may not be easy, but it's important, said Karen Lucero of UNM Student Health and Counseling. Lucero, who is from Isleta Pueblo, has organized events at American Indian Student Services where students can share in a group.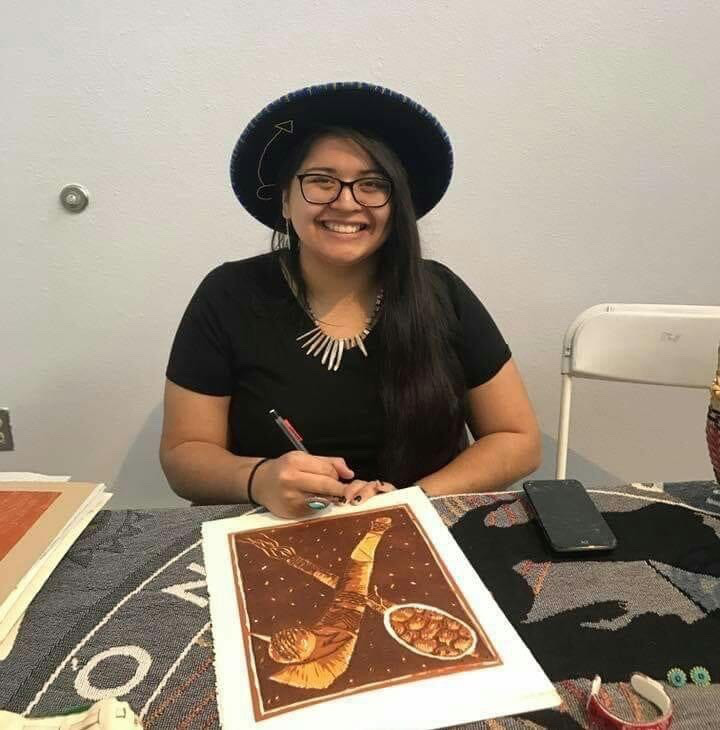 There has been a stigma against getting help for mental health in the Native American community, Lucero said. Her goal is to normalize mental health. She hopes her tailored talks and other events help more students recognize the need for help and access it.
"To gather amongst peers and to learn and have open discussions that are safe," is a familiar concept to many people who come from tribal communities, Lucero said.
Still, some students find it hard to navigate the services and tools that are out there. Amber Moreno is one.
Between March 2020 and August 2021, Navajo student Amber Moreno, a junior majoring in Film and Media Arts, moved three times between the University of New Mexico's campus and her home in Grants. She said it's been hard to get back into the routine of getting up and going to class in person.
"Everyone acts like it's back to normal but it's not," Moreno said. She thought about going to SHAC for help but didn't.
"I wasn't sure how to make an appointment and I just never got around to it," Moreno said.
In September 2021, the Student Health and Counseling Center had to double the number of initial appointments in order to meet increased demand.
Those first meetings, called triages, allow SHAC counselors to determine whether a student needs urgent help or needs to set up regular appointments. Following the triages, there should be a dialogue between the student and the provider about how to move forward.
One of Lucero's specific goals is to help Native American students advocate for themselves. While all the student interviewees came from different homes and pandemic experiences, each of them were able to emphasize the need to persevere for both themselves and their communities.
"Despite everything that's happening, you have to continue this path, some way or another," Eyachabbe said. "Our people have been survivors for thousands of years and we'll keep enduring no matter what."
For students at UNM, there is an After Hours line for both counseling and medical needs available at (505) 277-3136 and free mental health assessments and help at us.taoconnect.org.
If you or a loved one are in need of help, the national suicide hotline is 800-273-8255.
Talullah Begaye is a reporter for NM News Port and can be reach @thbegaye on twitter.