Across New Mexico, low-income renters face leaks, heat, mold, roaches — and no recourse.
By Jeremiah O. Rhodes / Searchlight New Mexico
Wendy Catalano, a resident of the Lolomas apartments in Clovis, is one of many tenants whose walls have mold due to leaky roofs that let in so much water, residents slip and fall on the slick, rain-soaked floors. Some of the roofs are beginning to cave in. "Nobody should be living like this," Catalano said.
Rebekah Phillips lives with a broken front door and infernal heat in her one-bedroom at the Uptown Horizon Apartments in Albuquerque: Her roaring box fans all but drown out any conversation but hardly lower the temperature. Other tenants in the 79-unit complex report moldy showers, outdated fire extinguishers and stairs held together with rope they bought to keep them from collapsing.
Cockroaches and other pests are the problems at Four Hills Studios, another apartment complex in Albuquerque. One resident, a man with cancer, had so many roaches and bedbugs in his unit that the complex transferred him to a motel for three weeks, his caregiver said. She said she called the city's helpline eight times this year and no one ever followed up. "I called 311 and I told them the situation," she said. "But all I got was a runaround."
These are just a few of the problems plaguing tenants in troubled rental units around New Mexico, where some of the state's most vulnerable residents — people who are low-income, elderly and/or disabled — face unhealthy, substandard conditions. The renters often struggle with chronic maintenance problems, unresponsive landlords and little to no housing code enforcement, Searchlight New Mexico found.
Those findings are based on a computerized review of more than 100,000 Albuquerque 311 call records over the past eight years, which revealed that some apartment complexes generated dozens of 311 calls about the same severe problems, time and again. Searchlight also surveyed more than two dozen tenants whose low-income rentals triggered repeated calls over an extended period. They said they got no response from the management company or local government.
For many tenants, leaving is not an option: Surging rents have made it impossible to move. For example, at the Uptown Horizon, located at the edge of the beleaguered International District, some units rent for $650 to $800 a month — a fraction of the cost elsewhere around the state, where the median rental price rose to more than $1,600 this year.
According to a 2023 report from the state's Legislative Finance Committee, average rents in New Mexico have increased by 70 percent since 2017. Meanwhile, wages have only grown by 15 percent.
"Unfortunately, I don't know where else I could go where I would be safer and that I might actually be able to eat and pay my rent," Phillips said.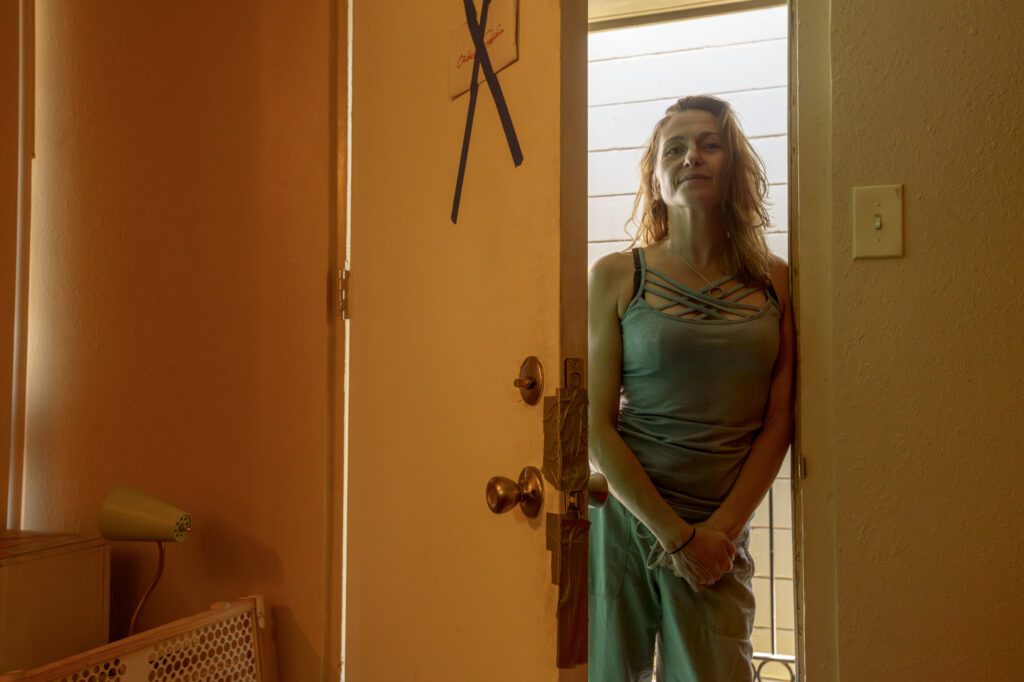 Out of state, out of mind
Common factors feed these problems, housing advocates and tenants say. Among them: Multiple out-of-state companies have purchased rental properties in New Mexico in recent years, making it more difficult to get help with maintenance, tenants report.
A case in point is the Uptown Horizon. Located on Lomas Boulevard NE, the property was sold in December 2022 to Crescent Sky Capital, a New York-based asset management firm.
The complex was never luxurious, according to a dozen longtime Uptown Horizon residents, some of whom have lived there for 10 years. But they said the previous manager, who worked for a local company, seemed to care about them and did her best to take care of them.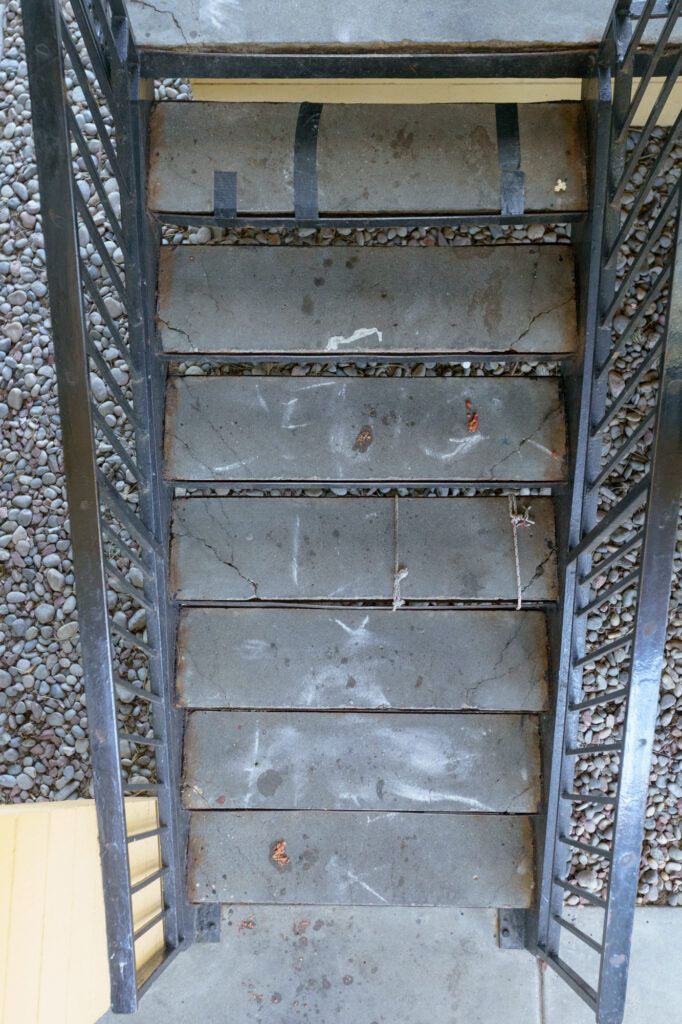 After the building was sold, the new owner switched to CalCap Properties, an affiliate of a Pasadena-based real estate investment company. Problems have increased since then, according to tenants and 311 records, in which callers describe issues ranging from water leaks and abandoned vehicles to a lack of hot water and air conditioning. (State law doesn't require air conditioning in rentals, but because Uptown Horizon's website lists it as an amenity, the company needs to provide it, advocates said.)
Sometimes there's only hot water for a few hours a day, Uptown tenants said. Phillips said she and her neighbor coordinate their hot water usage so they don't run out.
There were more 311 calls about the property in the six months after CalCap took over than in the entire year and a half prior, records show.
"Through all of this, I've never seen code enforcement, ever," Phillips said.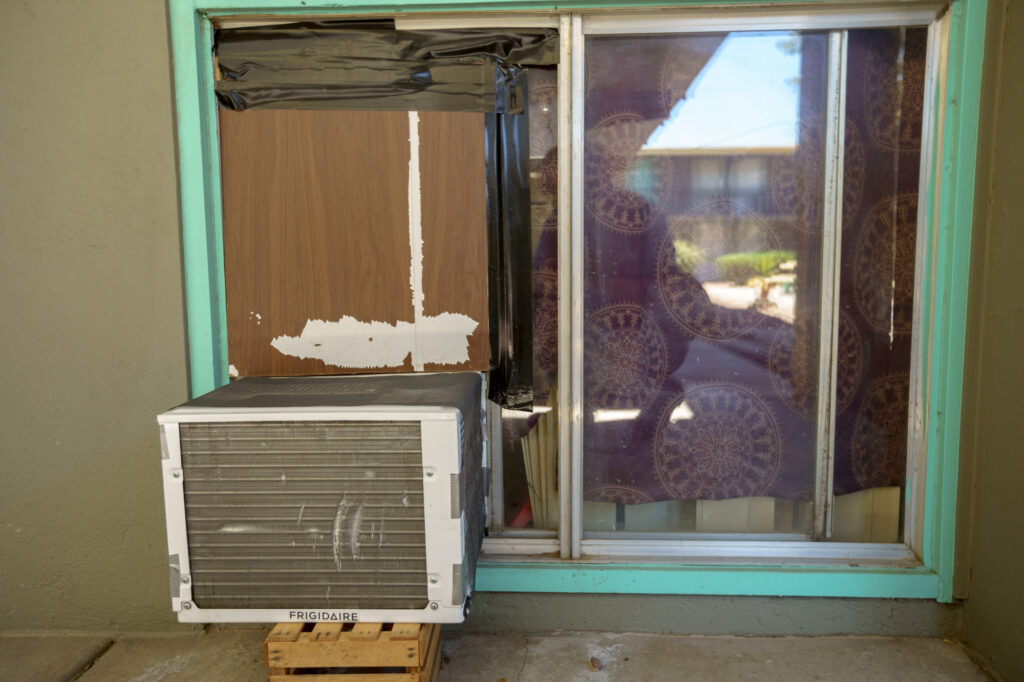 Ryan Kelly, CalCap's marketing director, said in an emailed statement that the company "is entirely focused on servicing the day-to-day needs of our residents and is fortunate to have an ownership group that is committed to addressing those needs as they arise." Kelly stated that "none of our residents have any active reports of leaks." He did not respond to questions about broken air conditioners, sporadic hot water or broken doors.
'Finding value in the rubble'
The new owner of Four Hills Studios is Georgia-based Metz Kelly Holdings — whose motto is "finding value in the rubble."
Blythe Metz, a managing partner at the company, said he's been working around the clock to turn the 290-unit complex around ever since it was purchased last year, a process that will include renaming it.
"I believe in the bet," Metz said, but "it takes time." Since taking ownership of the property, located on Central Avenue NE near Interstate 40, he said he's spent most of his time trying to get crime under control, working with law enforcement, fire departments and security companies to stop the barrage of 911 calls the property has generated. Last May, a man was murdered there, in an apartment described as a hub for fentanyl dealing.
Metz said he was not aware of pest infestations that were affecting enough units to warrant intervention, but said the company has signed a contract with an exterminator for future spraying.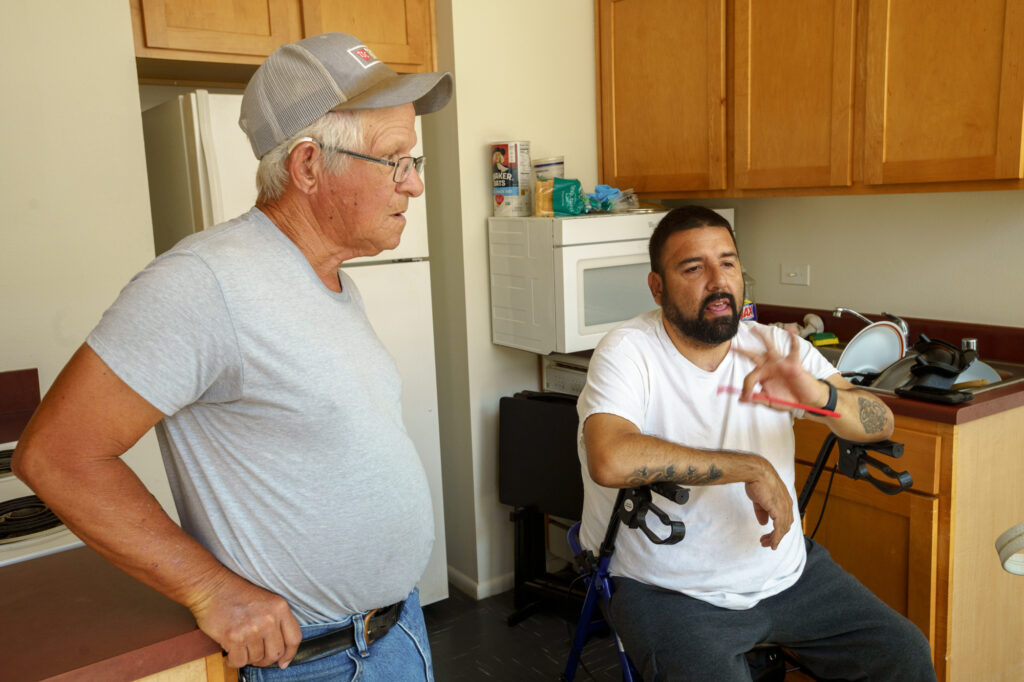 The dilemma of 311
State law requires landlords to provide habitable housing — residences that meet minimum housing codes and don't pose serious risks to health and safety. But given the lack of response from landlords or management companies, tenants often feel that calling 311 is their only option.
The non-emergency hotline aims to connect people to a variety of different agencies, whether for help with trash and abandoned cars or lost dogs and housing code violations.
The service, however, is not a magic bullet, officials say. "We really just provide the information," 311 Division Manager Carrie Prothero explained. Callers are directed to resources, phone numbers or city agencies; if they have a landlord problem, they might be referred to Albuquerque's "renters' rights" page. "But 311 doesn't actually go and resolve their landlord issue — we forward it to the appropriate department."
Calls about Albuquerque housing code problems, for example, are routed to the Planning Department, home of the Code Enforcement division.
According to Tim Walsh, a Planning Department spokesman, residents can contact Code Enforcement directly, but calling 311 is most efficient. "Some calls require multiple departments to respond," he explained in an email. By using 311, callers "can notify all applicable departments at the same time, which increases efficiency."
Searchlight spoke with renters across the state who had called 311, and none described the response as "efficient." The helpline indeed routes people to different agencies, renters said, but those agencies rarely take action.
One Uptown Horizon resident (who asked to remain anonymous for fear of retribution from the landlord) said tenants have "abandoned" calling the city because Albuquerque officials "don't appear to have done a darn thing."
Tanya Mascarena, the caregiver for the man with cancer, said the man's unit at Four Hills Studios was roach-infested from the time he moved in, in 2021. When the complex was finally sprayed for roaches in 2022, the bed bugs were also discovered in his unit, she said.
Hordes of roaches still appear when Sam Eskeli, another Four Hills resident, opens the cabinets, moves his toaster or turns on the lights in his apartment — where the summer temperature hit 80 degrees, owing to the lack of air conditioning. (The Four Hills Studios website, which described the units as air-conditioned, was recently taken down; a new one has yet to appear.)
Absent an effective code enforcement process, the tenants said they felt trapped and forced to accept the conditions.
'Overworked, underfunded, under-resourced'
By law, tenants have the right to live in habitable dwellings. A rental, among other things, should be structurally sound; have functioning doors, windows, plumbing and heating; and be free of pest infestations and health-threatening mold.
Some municipalities also have housing codes that set minimum standards for rentals. If violations occur, local governments can take legal action.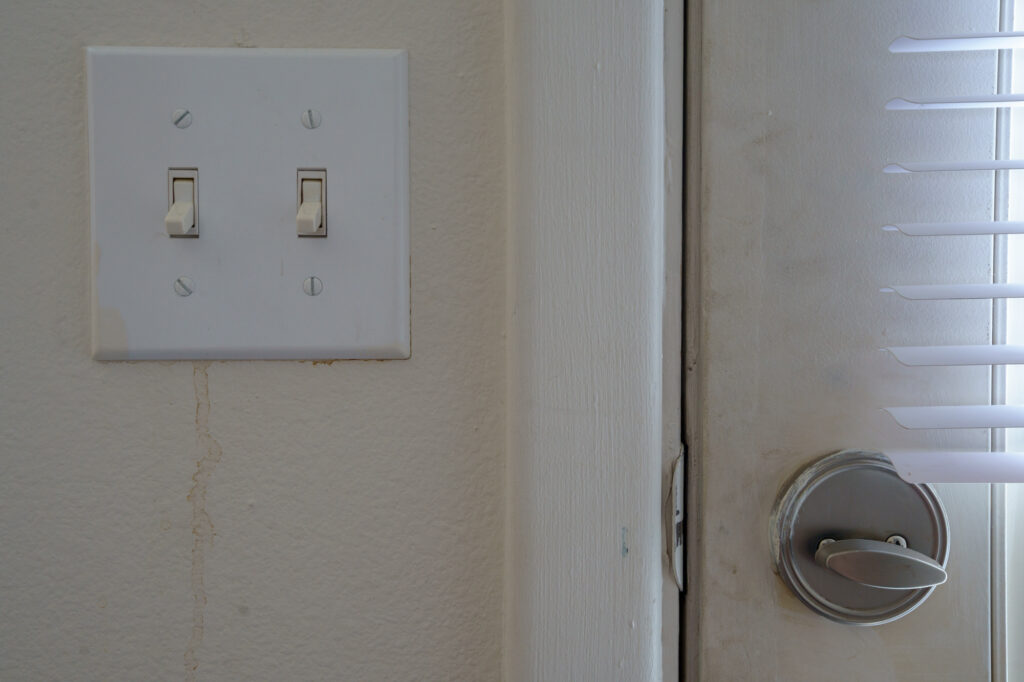 But they typically don't have the resources to enforce housing codes, said Serge Martinez, a law professor at the University of New Mexico and a member of the New Mexico Center for Housing Law.
"Code enforcement is overworked, underfunded, under-resourced and just doesn't really have the ability to enforce a lot of these rules," Martinez said.
Tenants do have legal options. If their housing is unfit for occupancy, for one, they're allowed to withhold a portion of their rent. But "as a practical matter," Martinez said, "it's really perilous for a tenant to try and do that."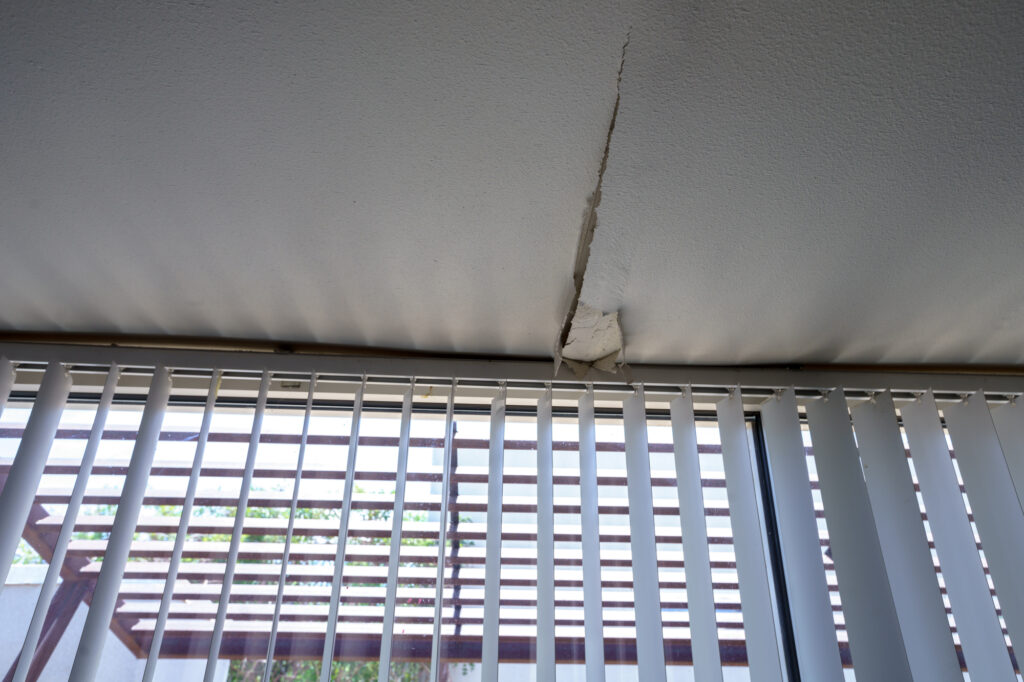 In some states, landlords can't evict a tenant or deny a lease renewal without a specific reason. Such laws, known as "good cause" eviction policies, enable tenants to withhold rent or assert their rights with less fear of retaliation. But in New Mexico, renters have no such protections.
Passing tenant-protection laws in the state has been difficult owing to the landlord-friendly legislature, advocates say. This year, for example, lawmakers stalled or shot down measures that would repeal bans on rent control or extend the amount of time tenants are given before landlords can file for eviction for nonpayment of rent.
Landlords can refuse to renew a lease for any reason — or none whatsoever. Tenants are often afraid they'll lose their housing if they complain.
Condemnation risks
Wendy Catalano, at the Lolomas apartments on Mitchell Street in Clovis, hasn't let the fear stop her: She says she's withheld a portion of her rent for three months.
The troubles at Lolomas started after a May rainstorm, leading to roof leaks and other problems at the 55-unit building, tenants said. (Managers of Lolomas declined to answer Searchlight's five requests for comment.)
The residents' plight highlights another quandary: If local governments start shutting down substandard housing without enough affordable housing to replace it, tenants can end up on the street.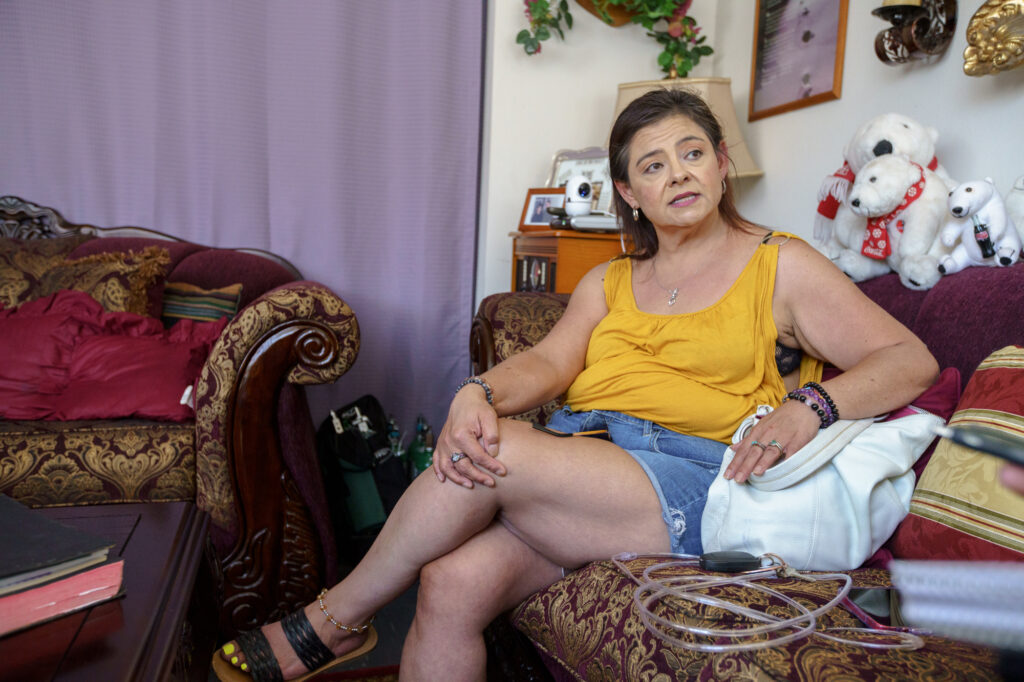 "If we go in there and condemn the building to try to make them [the owners] do something, the residents have 24 to 72 hours to move," as Clovis Mayor Mike Morris put it at a City Commission meeting in July.
Lolomas residents and local advocates appeared at the meeting to ask for help. But Morris demurred. "We don't want to put them in that position with nowhere to go," he said.
Somewhere to go
Rebekah Phillips, the tenant at the Uptown Horizon, decided that instead of trying to fight with management, she'd rather leave the state altogether.
As soon as her lease is up in October, she said she's moving to Austin, with help from the Domestic Violence Resource Center in Albuquerque and Goodwill Industries.
Her feelings about leaving are emphatic. "Albuquerque has not treated me well," she said. "I can't do this anymore."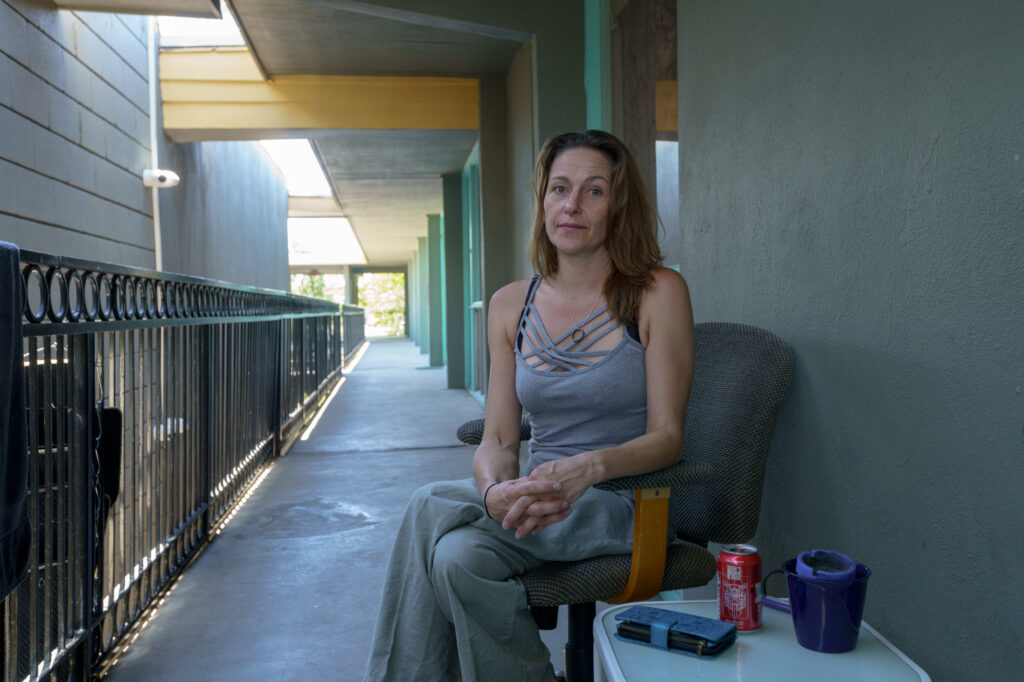 ---
Jeremiah O. Rhodes is a Searchlight editorial intern and a dean's merit fellow at the UC Berkeley Graduate School of Journalism, where he's focusing on data reporting and web development. Rhodes received his bachelor's degree from the University of North Carolina at Chapel Hill, where he studied photo and video journalism. Before graduate school, he worked with visuals teams at The Tennessean, The Texas Tribune, The Washington Post and NPR. Rhodes is also a member of the National Association of Black Journalists and the Association of LGBTQ+ Journalists.
Searchlight New Mexico is a nonpartisan, nonprofit news organization dedicated to investigative reporting in New Mexico.