By Sara Atencio-Gonzales
A historic fire station in Barelas could be the site of a new restaurant or shops if the neighborhood succeeds in finding the money to renovate the vacant 1920 structure.
The station, near Second Street and Atlantic Avenue, was built by the Atchison, Topeka and Santa Fe Railroad near the end of its golden era in this neighborhood south of downtown.
It was built with reclaimed sandstone originally quarried at Laguna Pueblo for an Atlantic and Pacific Railroad roundhouse. When that roundhouse was demolished in 1881, ATSF recovered the stone to build a fire station to serve its facilities in Barelas.
Although it was used for offices for a while after the ATSF roundhouse was demolished in the 1980s, it has been vacant for many years, which has left it vulnerable to vandalism.
It's important to protect the historic structure from further degradation, said Cristina M. Rogers of the Barelas Community Coalition. The Coalition is asking the state Legislature $1 million for the project.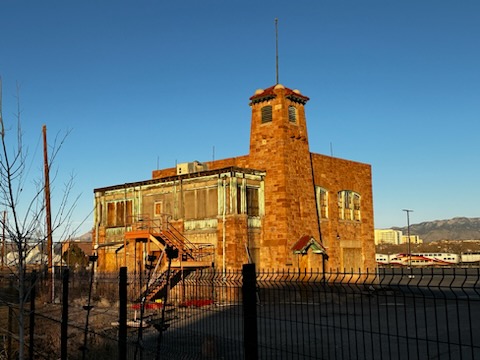 Terry Brunner, director of the Metropolitan Redevelopment Agency supports the effort. "We would like to see some redevelopment of vacant lots that exist around the downtown and rail yards and more restaurants and activities and things to do in that area," he said.
Barelas was the home of one of the biggest rail yards in the west. Established in 1880, by the 1920s, the rail yards employed 25% of the Albuquerque workforce. But as train travel withered with the coming of the automobile, and the city grew along Route 66, the rail yards shrank and the neighborhood was forgotten.
Over the past decade, Barelas has been the center of several new developments including Rail Yards Market, the Wheels Museum, along with being sets for movies such as The Spirit (2008) and The Avengers (2012).
The area has recently added new sidewalks, crosswalks, and street lights, along with a new patio and seating for market visitors.
The area is also slated to be part of a new Rail Trail, an 8- mile loop that will start at the rail yards, loop around the Sawmill District, head toward the Hispanic Cultural Center and end back at the rail yards.
The Barelas Community Coalition is working with Albuquerque City Councilor Isaac Benton and state lawmakers to find funding to make the fire station a part of the larger neighborhood rejuvenation.