By Isabella Baca | NM News Port
During the pandemic teachers had to find creative ways to transition from teaching in person to teaching remotely and back again—but different.
Although some parents have opted out of face-to-face meetings, choosing to have their children continue distance learning, most APS students went back to school in April.
According to the New Mexico Public Education Department, over a quarter of the state's school districts had begun in-person instruction the week of March 28. However, only 28% of school districts have been operating at full capacity as there was an unexpected decline in staff and students due to spring break.
"I was so happy to walk into my classroom- fully vaccinated, waiting for my students upon their arrival," said Kathryn Tkach, who teaches fourth and fifth graders at Bellehaven Elementary School.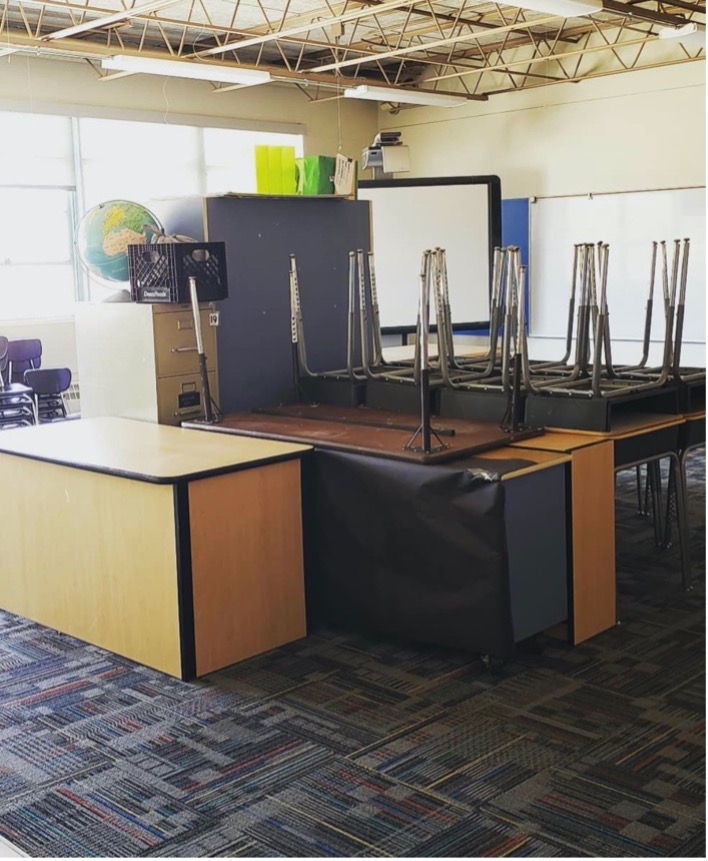 Tkach said that while she's glad to be back in the classroom she was nervous about how her 7-year-old son would readjust.
"My students are just happy to be here," Tkach said.
Bellehaven is reinforcing suggested health guidelines by placing desks 3 feet apart, requiring staff and students to wear a mask all day. One-way foot traffic is being enforced, rather than having open hall access enabling students to come face-to-face with peers. The school no longer allows parents to enter the doors unless there is an emergency.
"We are taking many precautions to create a safe environment for the children," Kimberly Baiamonte principal of Bellehaven Elementary said.
Attempting to keep students safe, Tkach does not want to take away from the experience that has been missed.
"Bellehaven has made many adjustments, I changed things within my own classroom that does not apply to those who are not my students," Tkach said. "…I still want them to have fun."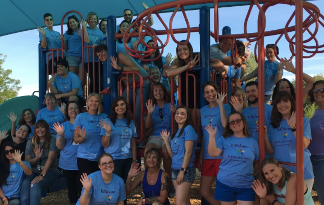 Maintaining distance, Tkach is no longer having students participate in group work. She shares that this was the student's favorite way to learn.
"I noticed that when the kids are able to get closer, they're happier," Tkach said. "It's hard to keep them apart," she said.
Tkach shared that the back-and-forth of distance learning to face-to-face instruction has not been made easy, but that she is grateful for the trusting relationships that she has built with her students.
Bailey Keller, a third-year teacher of fourth and fifth graders at Kirtland Elementary School describes this year as "crazy different."
Keller worried that she would have a hard time having students keep their masks on and remain a three-foot distance when returning to the classroom.
"To my surprise, they have been doing an amazing job following the new guidelines," Keller said. "…they are willing to do anything to be there."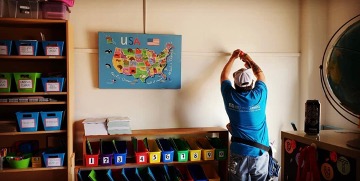 Keller shared that she "desperately" missed her students, but is having a hard time maintaining a steady balance between work and home. She typically stays at school until 5 p.m. only to return home to create a lesson plan for the next two days.
Keller's students have been split in half; 10 students are in class, while the remaining 13 students are tuning in from home. 
"I have been completely exhausted while teaching students both online and in-person," Keller said. "It is tough to plan in advance when I have to accommodate to all students with different situations when I am able to easily adapt in person."
With this adjustment, Keller has been forced to alter any plans she had for the year.
"I try so many different avenues of teaching, I have a lot of failures, with some success," Keller said.
As for the students, they are adjusting well. Keller believes that students unknowingly missed the structure of a set schedule and the socialization aspect of in-person learning.
Attending Dennis Chavez Elementary, Monica Apodaca's son Xavier has had a smooth transition back.
"Xavier is an only child, he couldn't wait to see his friends and to just be in a new environment," Apodaca said.
She shared that she feels her son has fallen behind in his education amid the coronavirus pandemic, but that they are making efforts to reach the districts standards.
Apodaca's main concern was whether or not students would maintain a safe distance from each other. Despite the hardships, she is thankful her son can continue his education in the environment that it was meant to be in.
"It is so nice to know that things are on their way to being back to normal," Apodaca said.
Isabella Baca is a reporter for the NM News Port and can be reached at @isabellacbaca on twitter.