By Jesus Mata / NM News Port
The summer movie season was largely lost due to COVID-19 measures that forced the closure of indoor theaters but, thanks to some entrepreneurial individuals, drive-ins have appeared as suitable and safe substitutes.  
Motorama, located at a former horse racing track in Santa Fe, is a new addition to the drive-in scene. 
Cofounder and event coordinator Stephanie Ortega said Motorama had a soft opening Aug. 9 before its grand opening on Aug. 13. 
"That was our opportunity to showcase Motorama, to get ourselves out into the public and open the doors," Ortega said. "Also, we really used that as an opportunity to work out challenges and kinks."   
Ortega said she and fellow cofounders Joe Dean and Amber Forester brainstorm over what movies to show.  
"It's not that you always get to choose any movie you want to showcase," Ortega said. "It does come back to licensing."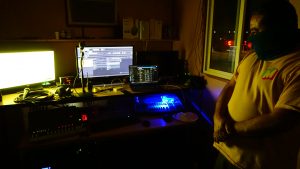 Dean also serves as Motorama's technician.
"Part of our process is by taking the blu-ray disk and transcoding it to a video file which can be played on our media server," he said.  "I use Matroska video, an open source, highly efficient codec developed in France."
Another important factor is the audio. Dean said Motorama essentially has its own radio station broadcasting the audio so movie-watchers can listen via their car radios. 
"The audio transmission is essentially a really close-range RF (radio frequency) broadcast," Dean said. "We broadcast on a frequency which is not used by any other radio stations and is also not in a frequency range which can cause interference with communications channels in the area."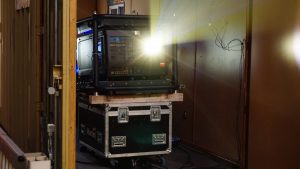 Like any good movie theater, Motorama features a concession stand serving popcorn, soda, candy and chips. The drive-in also includes other food vendors.
"That has been an assortment of outreach on our behalf, the food vendors coming to us and saying they want to be a part of Motorama," Ortega said, adding that they'd like to bring in additional food vendors.
Ortega said that the drive-in has gotten positive feedback from families about their experiences. 
"To get the feedback that we are — from all of the families and folks, they are just so grateful that we are here and doing this," she said.
Ortega sees a place for drive-ins like Motorama even when the pandemic abates and the indoor theaters return to full operation. 
"We hope that we can stay open," Ortega said. We don't want to add competition, and don't want to be in competition with cinemas. We think that this experience is so different."
Motorama is one of at least six movie drive-ins in New Mexico. The Drive-in at Balloon Fiesta Park has seen some complaints from drive-in attendees.
"I did not like that our car needed to run the battery to listen," Tessa Gamez said. "Also, the screen was small and the color was saturated in blues and grays."
Samantha Joann Trujillo took issue with the picture at the Balloon Fiesta Park drive-in. 
"I thought the screen was too dark," Trujillo said. "I had seen the movie before but my husband hadn't and he had a hard time following along because of how dark the screen was."
Trujillo said the couple found themselves opting to watch the movie at home. 
"We ended up leaving early and renting the movie on Amazon to watch." 
Another repeat drive-in movie-goer, Angelica Ruiz-Olivas, said she found the experience annoying at times.  
"On both occasions I have been blinded by someone's headlights until the movie workers have to go ask people to turn their lights off," Ruiz-Olivas said. 
Still, Ruiz-Olivas and Trujillo both like the idea of getting out and re-discovering this mid-century approach to screening movies. 
"I would not go back to the Balloon Fiesta Drive-in, but I would probably try a different drive-in," Trujillo said.
"I like the experience of the drive-in," Ruiz-Olivas said.
Time will tell if drive-in theaters can stick around once indoor movie theaters reopen. 
Jesus Mata is a reporter for the New Mexico News Port. He can be contacted on Twitter @JesusMataJr99 or at nmnewsport@gmail.com.