By Brigid Driscoll and Lara Sullivan / New Mexico News Port
Movie theater ticket sales peaked in 2002 and were slowly declining until the pandemic shuttered indoor spaces and tanked sales. They are now rebounding, but in 2021 theater-goers bought fewer than 500 million tickets, less than half of the 2019 total.
Meanwhile, Netflix has 221 million worldwide subscribers; Disney Plus 130 million and HBO Max 77 million.
Netflix says its subscribers watch an average of more than three hours of video per day. 
"I love watching Netflix," Downtown resident Drake Tyler says, "It's really nice to be able to pause it, and come back to it whenever I want. It's also kind of part of the culture at work, you know, to be able to talk to my coworkers about the latest episode of Inventing Anna or whatever."
Theaters innovate the hard product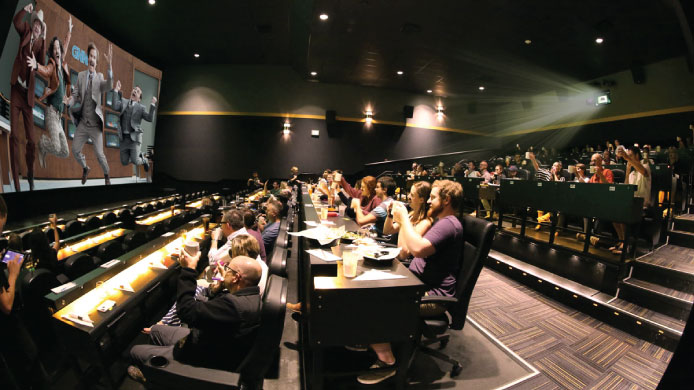 Both AMC and Cinemark stock hit historic lows in the winter of 2020, forcing theater companies to get creative in competing with major streaming giants. Since the dawn of cinema, theaters have strived to create comfortable and welcoming spaces at attract moviegoers to see their showings.
The COVID-19 pandemic has urged companies to get creative in their amenities to lure back the customers they lost over the shutdown.
Century Rio 24 has installed new, more comfortable seats, some featuring "rumblers" that vibrate or shake the seat in tandem with action on the screen, and every ticket now comes with assigned seating.
Most theaters have improved their screen and video quality and invested in bigger, better sound systems. IMAX theaters have screens that extend beyond peripheral vision, giving you a sense of being right in the action.
"Even though streaming services have become more convenient recently, I still prefer to go to the movie theater and get the whole cinematic experience", stated Michael Ary outside of the new Batman movie.
Businesses like Flix Brewhouse and other dine-in cinemas, have attracted moviegoers by offering better food and drink options. Each theater has an in-house brewery, short wine list, and kitchens serving chicken wings, mac and cheese and fish tacos.
"People are ready to go to the movies," said Will Moorman, regional head brewer at Flix Brewhouse.
Some cinemas have upgraded their theaters in ways designed to make people feel safer during the Coronavirus pandemic, installing top of the line air filters and allowing customers to distance themselves from others by choosing their seats ahead of time. 
Many titles were delayed or released on-demand in 2020 and 2021, but this summer dozens of films are scheduled for in-theater release. And for many movie fans it might be their first time back in the theater.
"The longer we are open, and the farther we get away from the mask mandate, for better or for worse, people are starting to feel more comfortable doing things," Moorman says.
Long-awaited movies that have been delayed are finally being released this summer and as the temperature rises, so does demand for a cool dark respite from the harsh summer heat.
Zak Green, a local bartender at 505 Central Food Hall, says that he enjoys movies, "especially in the summer. They're very cold and dark, it's like a childhood creature comfort.,
"I'm really excited to see Everything Everywhere All At Once," Green Says, "I've had COVID and gotten through it, so I'm willing to chance whatever risk there might be."
"Initially when we were first opening, stuff was getting pushed back, literally every week," Moorman says , speaking about last summer, when some locations were beginning to reopen. He too was disappointed, just like we were, when movie production companies felt that it was too risky and unpredictable to risk releasing films that could either be ill-attended, or worse, facilitate a community falling ill with COVID-19.
Now that theaters are fully open with new and improved amenities, this summer season can expect a great return to the movies and the continued gathering of friends and family to go experience a film together. The the public is excited to be entertained once again in such a historic way.
Grace Neimens recently moved to Downtown Albuquerque from Seattle, where she often attended movies with friends. "It's a group experience, I love it." says Neimens
Brigid Driscoll and Lara Sullivan are reporters for New Mexico News Port and can be reached at nmnewsport@gmail.com.