By Tyler Braunhardt / NM News Port
Albuquerque voters will decide on a $50 million multi-purpose stadium bond question in a city-wide election in November. If approved, the money would help build a proposed stadium that would mainly be used to house Albuquerque's Division II professional soccer team, New Mexico United.
New Mexico United began playing in the spring of 2019 at the city-owned Isotopes Park, where they still continue to share the field with Albuquerque's Triple-A professional baseball team.
A consultant's study has identified two preferred locations for the proposed stadium. These were outlined in a July feasibility study conducted by CAA ICON, a leading consulting firm that specializes in sports and entertainment venues, and Crawford Architects.
According to the study, the best locations are near the intersections of Coal and Broadway or 2nd and Iron. The study also proposes the stadium serve as a venue for other events such as performances, weddings, farmer's markets, carnivals, and possibly a women's soccer club.
In their report, CAA ICON shared their projections on the average attendance the stadium could bring in for both soccer games and miscellaneous events, projecting over 200,000 attendees per year.

Albuquerque Mayor Tim Keller has touted the benefits of the stadium and took to the United field late July to say, "You all have earned a stadium… we're going to build a new home for the United right here in the Duke City… we're going to keep on winning for New Mexico!"
There are many benefits of a multi-purpose stadium, said Lindsey Allen, a member of United's booster club, The Curse.
"I think it could be used for state soccer tournaments… it [can] be a great place for vaccine clinics, blood drives or donation drives," she said.
Funding for the project would be paid for through GRT (Gross Receipts Tax) Bonds based on the city's current available bonding capacity, as well as through refinancing previous bonds, according to a City press release.
The $50 million itself would be paid by those who invest in the GRT Bonds.
Where taxpayers would be on the hook is paying the interest rates on that $50 million bond issue, which could reach as high as $7-$8 million. That works out to roughly $100-$110 owed by each city resident, according to Paul Gessing, President of the Rio Grande Foundation, a watchdog group focused on policy issues.
However, CAA ICON estimated that regardless of the construction site, total costs will exceed $50 million, and may be closer to $65 or $70 million.
As far as where that extra $15-$20 million would come from, tenants of the stadium would contribute that.
New Mexico United owner Peter Trevisani explained why the public would help finance the stadium in an interview with KRQE in August .
"The public and private sector can't own the same assets. What a private company can't do is partner with a public entity and say 'ok, we're going to buy the field, and own the field,' he said.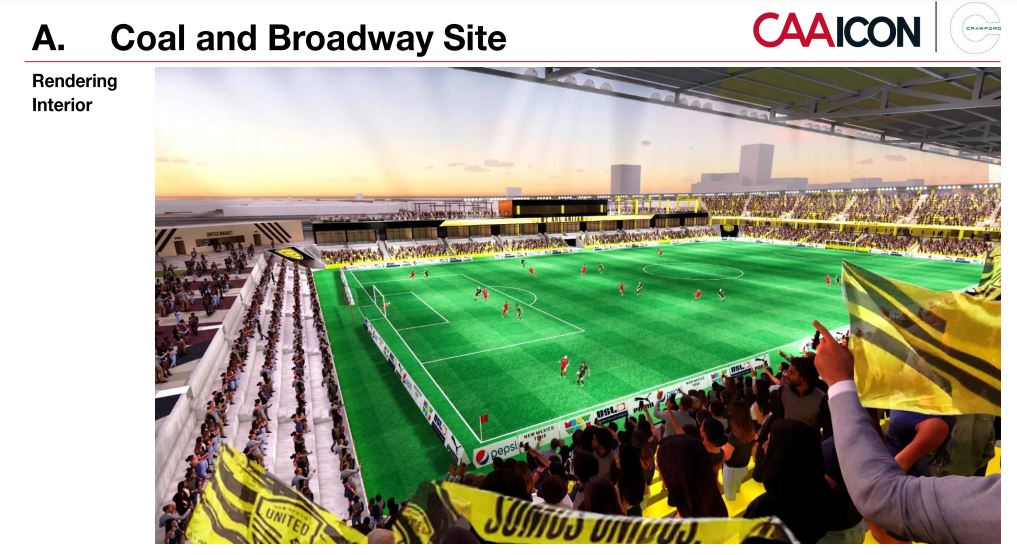 The stadium plan is already roiling voter views around town.
Roman Babcock, a lifelong Albuquerque native and sports fan, says he's not in favor of helping pay for the stadium, saying it's irresponsible for the city to even think about building a stadium at this time.
"I never thought we'd be in a position, especially during a pandemic, where building a stadium would be towards the top of our priorities," Babcock said.
Babcock said the funding could be better used in a variety of different areas, particularly education.
"Being that New Mexico has struggled with education for years, I think that additional [money] would be better off funding the educational sector," he said.
Allen pushes back on the narrative that the funding could be better spent elsewhere, saying that a stadium generating income back into Albuquerque is important.
"This bond is going to give revenue back to the city, whereas other capital projects use money continuously and do not bring money back to the city," she said.
Italia Aranda, one of the many citizens that submitted written public comments to the city council earlier last month, is not on-board.
"While I deeply enjoy the New Mexico United games and appreciate the city's efforts to provide family-friendly activities, I have also experienced first hand the deep economic and emotional hardships of the city's lack of investment in other areas that affect its residents," she said in her comment.
Allen sees value in the stadium beyond bringing revenue back to the city, explaining Albuquerque youth will have a chance to benefit.
"Any time a young person can see someone like an idol of theirs, that [breeds] hope and ambition and something to work towards… that's key," she said.
The stadium will be left in the hands of voters on November 2.
Tyler Braunhardt is a reporter for New Mexico News Port. He can be reached on Twitter @TBraunhardt.