By Taylor Gibson / NM News Port
After pulling through August's primary elections, incumbent Jonathan Nez and newcomer Buu Nygren, remain in the race to be the next president of one of the biggest indigenous tribes in the United States.
With a crowded primary of 15 people, both candidates were the only two who exceeded 10,000 votes. Nez led with 17,073 votes while Nygren came in second with 12, 878 votes.
"We have about 121,000 registered voters this year, however, only 47,000 voters participated in the primary elections. That's not even fifty percent," said Rosita Kelly, Executive Director for the Navajo Election Administration (NEA).
The only change the NEA made this year is the voter's registration deadline. Originally it was open forty days before the general election, but due to missing names in the system, it will be cut by ten days to ensure everyone votes on November 8.
"We are expecting bigger numbers on the actual election day and we are excited to see the results!" said Kelly.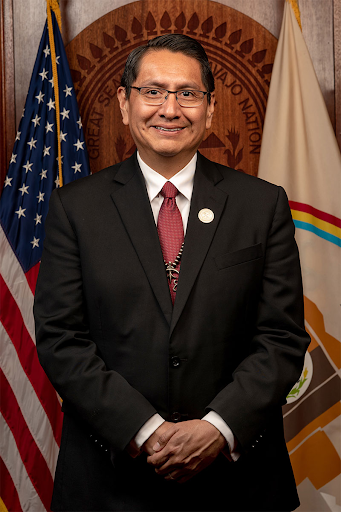 Nez starting out on the Navajo reservation
"As a young person, I spent years listening to and gradually understanding the issues from the local level on up," said Nez in a video from Indianz.com at the Shootinglady Pavilion in Shonto, Arizona.
Born in Tuba City and raised in Shonto, Nez, 46, stood on the pavilion where his late grandfather, Henry T. Donald stood and delivered his speeches as a council delegate for Shą́ą́'tóhí Chapter from 1959 to 1963.
Telling Navajo Times that his grandfather was one of the reasons why he joined politics, Nez said he had never met him but heard stories about his community service from Shonto residents.
A life of politics
As a career politician, Nez became a council delegate of his hometown chapter in Shonto, Arizona. He served three terms representing the communities of Shonto, Oljato, Tsah Bi Kin, and Navajo Mountain.
Nez then went on to the Navajo County Board of Supervisors for District 1 for two terms. He was chosen to be former Navajo Nation President Russell Begaye's vice president in 2015 and finished that term in 2018.
In 2019, he won the presidential election alongside his running mate, Myron Lizer. Lizer, who earlier this year failed to secure a candidacy spot for Congress as a Republican for Arizona, took an absence from social media and the public.
This time around, Nez selected a new running mate. A U.S. Air Force veteran, Chad Abeyta, 33 from the New Mexico region of the reservation.
Similar to his opponent, Nygren, 35, also from Arizona, chose his vice president from New Mexico.
Nygren has never not felt Navajo
Dr. Buu Van Nygren was born in Red Mesa, Arizona, and was raised by his late mother and grandmother, who taught him the Díne language. Nygren never met his father, who he was told was a refugee from South Vietnam.
He is married to Arizona State Representative (LD-7) Jasmine Blackwater Nygren, and together the two have a newborn.
"My only family has always been my Navajo family," said Nygren to Navajo Times.
His childhood home had no running water or electricity. For money he used to sell his mother's jewelry at restaurants in Farmington.
His mother and grandmother were his strengths during tough times and they always encouraged him to continue his education to achieve a better life.
"You need to learn to be self-sufficient, independent and always have a good heart," said Nygren.
Nygren is the most educated Navajo Nation presidential candidate by far with three collegiate degrees.
After graduating as valedictorian from Red Mesa high school, Nygren attended Arizona State University and received two degrees, a bachelor's degree in construction management and a masters of business administration.
He completed his doctoral degree in education and organization change and leadership from the University of Southern California.
Earlier in April, he chose to leave his position as chief commercial officer for the Navajo Engineering and Construction Authority to push his campaign for Navajo Nation president into full gear.
Returning back to the game
Working off the reservation for eight years as a manager in the construction field, Nygren returned home to work the same occupation for three years before becoming the chief commercial officer.
Back in the 2018 election, Nygren was former Navajo Nation President Joe Shirley's running mate. However they lost that race to Jonathan Nez.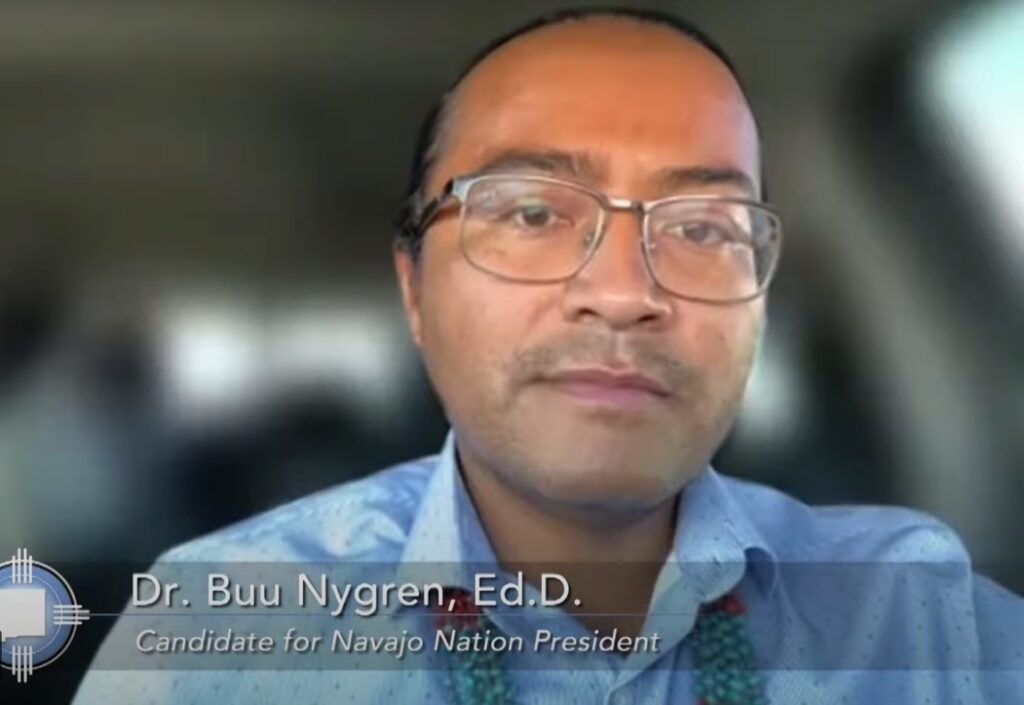 In a recent NM PBS interview with Antonia Gonzalez, Nygren explained why he chose Richelle Montoya as his potential vice-president, "Personally I felt like there is a lot of young Navajo women, from one years old to forty years old, that feel like there should be representation in the president's office."
His campaign theme is "Thinking of the Future", "I really want to be a proactive president. Because you are the leader, you should be a trendsetter forecasting what's coming next."
Continuity vs. Change for the Navajo Nation
In a recent debate held at Navajo Technical University, both candidates and their running mates presented their administration's visions.
The COVID-19 pandemic was one the most disputed issues of the debate. Both candidates took jabs at each other's response to struggling Navajo citizens.
"Since 1989, Nez has copied the actions of previous presidents who don't help the Díne people at their time of need, but instead say they gave you this money and that money later on," said Nygren.
In response, Nez said "I would take offense, to say that someone said that we weren't doing anything."
Continuity is the main priority for the Nez-Abeyta Administration, continuing their strict COVID-19 measures, and handing out more federal relief funding like they did during the height of the pandemic with $714 million from the CARES and $2 billion from the ARPA funding.
In contrast, the Nygren administration has said they want change for rural and poverty-stricken Navajo citizens to get better resources. Nygren's economic plans include increasing tourism, giving small local businesses more financial opportunities and making sure there is enough revenue to create more jobs.
Election day inches closer
On November 8, the Fort Defiance Chapter house will prepare their facilities to be filled with community members ready to cast their ballots.
This year, chapter house manager Lorraine Nelson says there are expecting around 1,500 registered voters in the Fort Defiance area to come.
There are 121 chapter houses across the Navajo Nation, broken down into five agencies that monitor surrounding areas.
"The only major change from last election is the campaigning rules. Usually candidates are able to camp outside of the chapter houses and give out free food, and gather in large groups. But the pandemic changed that," said Nelson.
Food and handouts must be sealed in a plastic bag and no one can cook food outside. Groups have to wear masks and be within 6-feet social distance.
In order to cast a vote, you must be 18 years or older, have a Navajo census number and be a registered voter.
You can order your absentee ballot through mail or download the application at https://navajoelections.navajo-nsn.gov/.
"From what we learned in the primary voting, is that a good environment and solid regulation for voting ensures we all can continue doing this process for years to come," says Nelson.